Tablet TV aims to bring broadcast television to tablet screens. The portable receiver comes with an app that provides a programme guide, supports subtitles and red button services and will enable programmes to be recorded for later viewing. Motive Television is taking pre-orders for Christmas delivery in the United Kingdom. A launch of a similar service in the United States is also planned.

Len Fertig, the chief executive of Motive Television, described the launch as an important milestone. "Personal live TV-viewing on tablets is a dramatic change in viewing habits and marks a continual sea change in the television industry," he said.
The TTV UK app allows viewers to watch free-to-air television channels on an iPad. A version for Android tablets will be available soon and extensions to smartphones and other devices are also planned.
It requires an additional receiver device. Two models are available. There is a portable tuner for use out and about for £69.99. It has an integral aerial and rechargeable battery. There is also a mains model at £64.99 that can be connected to an external antenna for use in the home, a caravan or other fixed locations.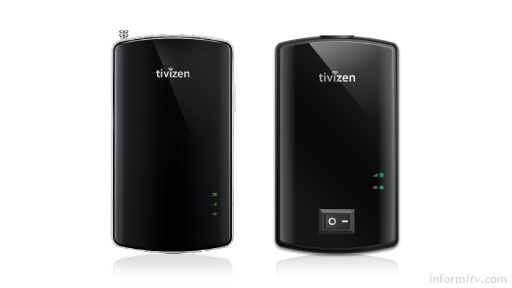 Rather than attaching to a tablet or phone it is a separate portable receiver that forms a wireless hotspot to relay a stream a channel. This can then be received on a tablet using an app. The record and replay feature will be available subsequently as a download. Tablet TV does not currently support high-definition channels.
The product has undergone testing for Freeview certification and the company says that this is currently in the final review process. It requires approval in order to use the Freeview trademark.
While there are other apps that can display streaming television channels, receiving over the air signals means there is no reliance on a fixed or mobile broadband connection or an possible issue with data charges.
The need for a separate television licence is less clear. While a television licence is required in the United Kingdom to watch or record television channels at the time they are broadcast, a home television licence may cover a device powered solely by batteries or used in boats, touring caravans or vehicles.
In our experience handheld receivers have delivered variable results, depending on signal strength. Terrestrial television signals are generally intended to be received through a rooftop antenna and portable reception can be patchy. Separating the signal reception from the screen seems like smart move.
This is not the first receiver for a tablet. Other companies such as Elgato have digital terrestrial tuner devices, including a similar separate receiver solution known as the EyeTV W.
This may be the future for multiscreen viewing, with a receiver sited where it can conveniently attach to a suitable antenna and channels streamed wirelessly on demand to display devices.
Aereo took this one step further, with centrally sited antennae and streaming over the public internet. It incurred the wrath of incumbent networks and media owners. Although it survived some legal challenges it was forced to shut down and seek bankruptcy protection following a ruling by the United States Supreme Court.
Tablet TV will also be rolled out in the United States. Unlike Aereo it receives over the air signals locally, so should avoid legal issues, although that has yet to be tested. The receiver technology supports DVB-T, ATSC and ISDB transmissions, so versions could be produced for other markets.
www.motivetelevision.co.uk
www.tablettv.co.uk
www.elgato.com