JW Player is an increasingly popular online video player. In the six months to October 2014 the number of video streams delivered using the player tripled to 13.6 billion a month. It claims to be used by one in seven people on the planet and one in three people in the United States and Europe every month. Its new quarterly report distils data from 2.5 billion video events a day.

JW Player started in 2008 as a simple open source video player, named after its creator Jeroen Wijering. A billion unique users a month now use it across more than 2 million sites on phones, tablets and personal computers. JW Player claims to deliver one in twenty of all video streams worldwide.
JW Player operates a freemium model. The core player with a watermarked logo remains free, while premium packages are available for an annual fee, starting at $149 a year for one site.
The company added analytics service to provide publishers with insights into their audience, media and advertising performance.
Dave Otten, the chief executive of JW Player, said the results in the first first quarterly JW Trends in Online Video report reveal the dramatic growth of the platform. "With 80% of end users coming from outside the United States, our data represents a truly global audience, and we're proud to showcase the growth of our network and share these insights on the online video industry as a whole."
Unlike studies that focus only on the top 10 to 20 video sites, the data is representative of the global "long tail" of video, produced by millions of international publishers around the world.
The data from JW Player's global network of connected players processed by this pipeline handles a "video firehose" of 25,000 video events per second, equivalent to 1.5 million events a minute, 100 million events an hour and 2.5 billion events a day.
39% of viewers using JW Player are in Europe, with 24% in North America, and 23% in Asia. Average monthly viewing time in Europe is 34 minutes per person, 32 minutes in North America and 30 minutes in Asia.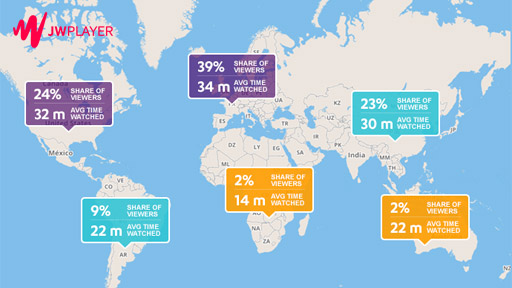 Personal computers account for 77% of devices used to view video through the JW Player, with the Google Chrome browser hosting almost half the streams.
Tablet users watch 40 minutes a month, followed by personal computers at 30 minutes and mobile phones at 20 minutes.
Progressive downloads in MP4 format comprise 63% of plays through JW Player, with adaptive streaming in Apple HLS and Adobe HDS formats accounting for 25%.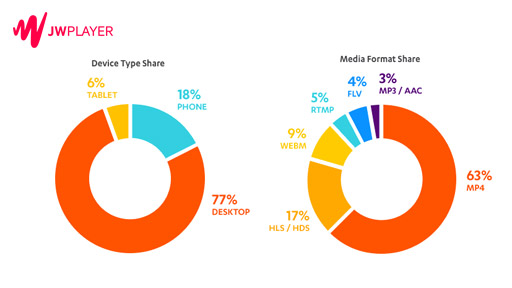 Pre-roll ads predominate, with 91% of video advertising delivered using VAST open standards. The report suggests that viewers in the United States tolerate ten minutes of advertising per hour watched, against two minutes in Europe.
"We believe that this data, and the future insights we will continue to gather, will enable our global publisher network to increase viewer engagement and better capitalize on monetization," said Eric Hoffert, the chief technology office of JW Player. "As devices, advertising and streaming technologies with which audiences consume video are shifting, these insights, and those that are yet to come, provide an opportunity for publishers to reach new audiences, while increasing revenue and traffic."