Local television services are provisionally set to continue broadcasting in the United Kingdom until 2034. The licences of 34 local television services will be renewed for 10 years, subject to a review of the plans of each station to continue to meet the needs of local audiences. If current providers choose not to renew their licence, or renewal is not approved, there will a competitive relicensing process.

Local television stations were launched in 2013, initially supported by up to £40 million of television licence fee funding. This included £25 million in capital funding, which covered the development of the local television multiplex. A separate £15 million scheme to support local television news ran from 2013 to 2020.
Services were given a prominent position on terrestrial television, normally occupying channel 7 or 8. They are required to broadcast a minimum number of hours of local programming each day. The idea was they would offer local news and programming focussed on smaller areas than existing public service broadcasters.
The current licences are due to expire on 25 November 2025. While local television no longer receives central government subsidy, services benefit from shared transmission costs, due to co-ownership of the local television multiplex, currently operated by Comux, and from prominence on traditional TV platforms like Freeview, Freesat and Sky due to their status as public service channels.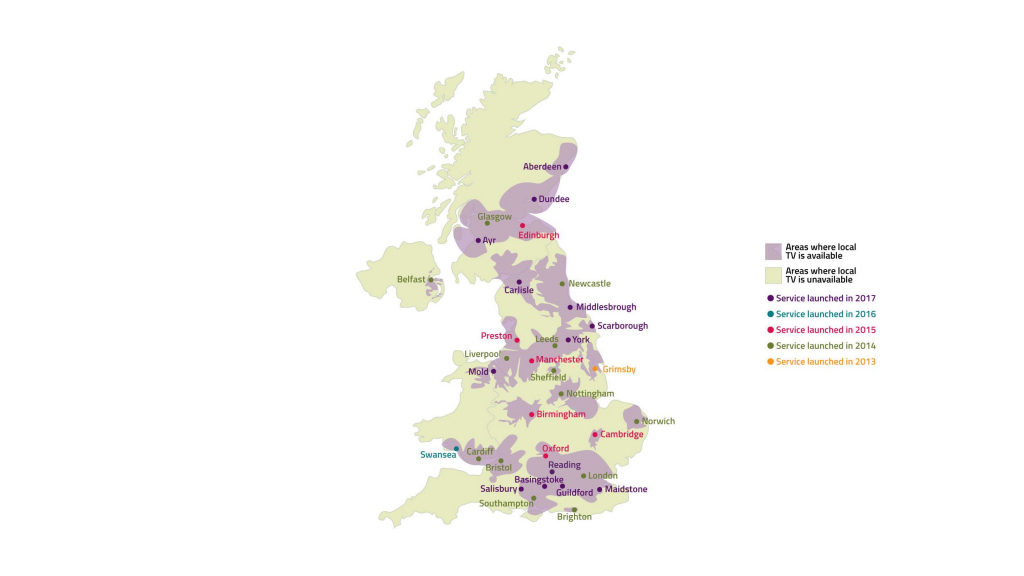 Many of the local television services are consolidated across two providers, Local Television Limited and That's Television Ltd, with the latter holding 20 licences.
In recognition that some outlets have struggled to generate stable revenue streams, maintain consistent audience numbers and sustainably fund genuinely local content, the government has published a consultation inviting views on the opportunities and challenges facing the sector to ensure it can continue to serve audiences and be sustainable in the long term.
"Local TV stations from Belfast to Birmingham help to support local journalism, drive the creative economy and foster pride in communities," said Media Minister John Whittingdale. "We want to see this continue, so we've set out plans for Ofcom to review all services to ensure they're well positioned to continue serving local audiences with trusted and distinctive content for years to come."
The 12-week consultation invites views on the current objectives licence holders are assessed against by Ofcom. Participants will also be invited to submit responses on innovative suggestions relating to how local TV could be used to enhance local journalism and democracy across the UK.
Ofcom will review each station's proposals for the decade ahead to ensure they can maintain their current service and continue making distinctive shows which meet the needs of the local area.
If Ofcom approves their plans, services will be allowed to continue broadcasting until 2034 and retain several benefits, including a prominent position in electronic programme guides.
Subject to the outcome of consultation, the government plans to move forward with the necessary secondary legislation later this year.
Should current providers choose not to renew their licence, or Ofcom decides not to approve a renewal, Ofcom will move to a competitive relicensing process.
The Consultation on the renewal of local TV licences is open until 30 August 2023. The consultation paper is available on the government web site.