Sky is to offer a service of hundreds of television channels to customers over broadband, without the need for a satellite dish. Unlike its standalone NOW TV online service, it will be based on its latest Sky Q box and is expected to launch in the United Kingdom in 2018, before rolling out to other European markets.

Customers can currently use the Now TV broadband service to watch some Sky channels without a dish or a long-term contract but the plan is to offer the full range of Sky Channels, through a new Sky Q box.
Jeremy Darroch, the chief executive of Sky, said it will target up to 6 million households across Europe, including up to 2 million in the United Kingdom, that are unable or unwilling to have a satellite dish.
"This is the first time we have been able to offer the full Sky TV service without a satellite dish," he said. "It is a big moment for the business." The service will launch initially in the United Kingdom in 2018. It will be extended over time to its other European markets.
While Sky delivered over broadband will enable it to reach new customers without a satellite dish, we can expect satellite services to remain for many years. Nevertheless, it will address any view that Sky is dependent upon satellite to deliver its services.
The move is partly in response to increased competition in the communications market, including services from telcos like BT and TalkTalk, and the prospect of an offering from Vodafone. It also reflects a perception that people want more flexibility from their services, without being tied to a satellite dish installation.
Sky subscriber churn in the United Kingdom and Ireland rose to 11.6% in the second half of 2016, up from 10.2% in the same period the previous year. The company is launching a loyalty scheme to reward customers to reduce churn, based on a model used in Italy.
There are now 12.65 million Sky customers in the United Kingdom and Ireland. That includes customers taking any paid-for product, including its new mobile phone service. Sky said it added 124,000 new television products, not necessarily customers, taking its total television customer base to over 11.4 million. That includes figures for the NOW TV online service, which Sky does not break out separately.
Sky says there are over a million of its new Sky Q boxes installed in around 600,000 homes in the United Kingdom. It says they are watching 10% more television compared to those with the previous Sky+ box, which is attributed to the more visual interface and personalised recommendations, although it could just be that homes paying a premium for Sky Q are more interested in television.
The total number of retail customers that Sky has across the United Kingdom and Ireland, Germany and Austria, and Italy, rose to 22.32 million.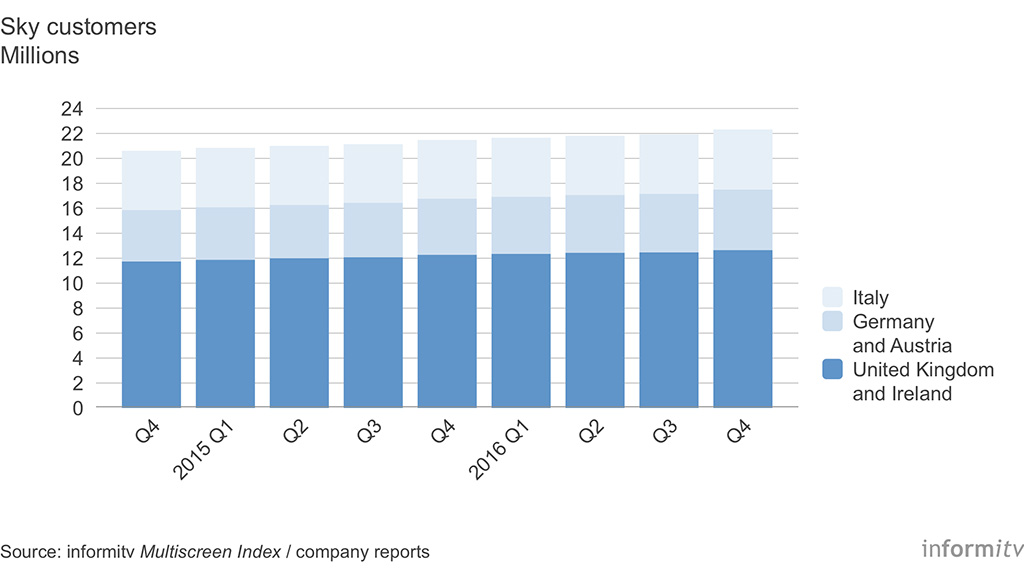 Group revenues for the second half of 2016 rose by 65 million to £6.4 billion. Profits fell by 9% to £697 million, down by £65 million year on year despite a £314 million rise in Premier League football rights costs.
Discovery is threatening to pull its programming from the platform in the United Kingdom, saying Sky is refusing to pay a fair price to carry its channels, which include Eurosport. Sky meanwhile argues that Discovery is not pulling in as much viewing, saying they are not providing big shows for which people will pay. Sky rejects the suggestion that this has anything to do with its pending acquisition by 21st Century Fox.
Sky is investing in over 100 series that are currently in production, totalling over 1,000 hours of programming, including 15 new dramas.