Freesat, which provides a satellite television service without subscription in the United Kingdom, is offering its user interface and management platform to other service providers under the product name Metaphor. It has also launched a novel audience analytics service in association with TVbeat. The combination of a polished user experience and advanced analytics offers interesting insights into how people really watch television.

Freesat is a joint venture between the BBC and ITV. Serving around 1.93 million households, it is available without subscription for anyone in the United Kingdom with a compatible receiver.
Originally launched as Freetime, the Freesat user experience competes very credibly with other services on features, function and user friendliness, in one of the most competitive television markets in the world.
Freesat does not manage or deliver channels, it simply aggregates existing free to air television and radio channels available on satellite, so the core service is about managing metadata for those channels and providing a convenient user interface for them as a package.
Matthew Huntington, the chief technology officer of Freesat, told informitv that the user interface design is being made available to operators in other countries with or without a fully-managed service.
"There are three parts to the proposition, which we call the front, the back and the backup," he explained. "The front is the user interface. The back end provides a metadata service and viewer management platform that operates as software in the cloud. The backup consists of operational management, and product and marketing support".
As an example, Freesat has licenced its user interface to Tivùsat, in Italy, which has built its own back end. It will also provide a complete managed service to RTÉ in Ireland for its Saorview Connect digital terrestrial television service.
The Metaphor platform is hosted as a multi-tenant service using cloud platforms, enabling Freesat to offer it internationally.
"We've proved that we can package up that operational capability and sell it on," he said. 'We're an operator and we know what works, which gives as an advantage over some solution vendors." In other words, in the marketing expression, they are eating their own dog food.
The idea is that other free to air platforms and smaller subscription operators get the benefit of a complete platform that can compete effectively for features with larger service providers. Freesat also benefits from economies of scale, as do manufacturers that support the platform with devices and displays.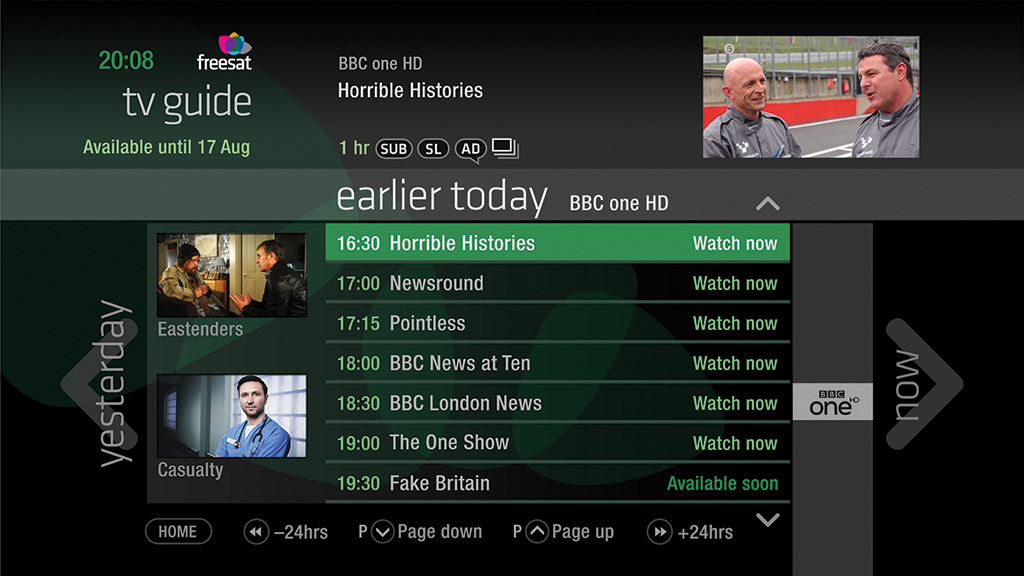 Freesat has a partnership with TVbeat for audience analytics. So Metaphor can provide much more than a pretty user interface. Its beating heart is the capability to offer second by second insights in real time into aggregate audience behaviour.
Freesat has around 100,000 receivers opted in to provide a powerful panel of users that drive a real-time dashboard to allow anonymous audience activity to be measured. Unlike traditional industry measurement panels, it is not intended to be demographically representative, but it does allow actual audiences for different programmes and channels to be compared.
So as well as being able to see channel share by percentage in real time, it is possible to see minute by minute where they gain or lose viewers. The measurement system also includes on-demand services, although it does not currently extend to viewing of individual programmes within them.
Interestingly, BBC iPlayer and Netflix both count among the top ten services on Freesat, at 7 and 9 in the previous month, reaching 51% and 16% of the audience respectively. However, in terms of share of viewing, iPlayer accounted for 2.15% and Netflix 1.96% across the Freesat sample, with all the online services adding up to around 6% share collectively, which is consistent with other research.
According to Freesat data, personal video recording, together with timeshifting, accounts for about 11-12% of viewing, which is attributed back to the time slot for the channel.
Of course, the audience analytics could also be used to assess the effects of editorial recommendations and promotions in the programme guide.
Naturally, with a web-based interface, Freesat can also use tools like Google Analytics to analyse user journeys in terms of interaction and better understand models of navigation.
So it seems that people still use direct channel number entry, together with channel up and channel down, to access popular channels.
People appear to like the idea of a guide that scrolls back in time, although they are not necessarily using it to watch programmes. The majority of usage is actually through the on-demand portal and a channel brand, implying that they may already know what they are looking for when they access a catch-up service.
The combination of a user interface, metadata platform and audience analytics provides an incredibly powerful way for operators to understand how people actually watch television.
That should in turn lead to improved user interfaces based on real insights, rather than assumptions from product managers and designers about how they think things should work.