With the launch of its Fire TV streaming box, Amazon promises to its role in online video, just as the Kindle reader revolutionised the world of books. It represents a confident entry into the market that integrates Amazon services but is also open to others.

Sensibly packaged as an unobtrusive black box rather than a plugin stick, the Fire TV is just 115mm square and 17mm high. With three times the processing power and four times the memory of competing devices, like Apple TV, Google Chromecast or the Roku 3, all of which Amazon sells through its online store, it is for sale in the United States at $99.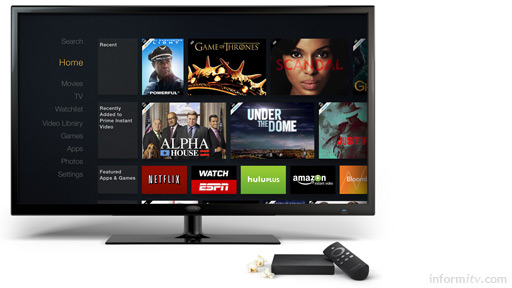 With a dedicated graphics engine and dual-band, dual antenna WiFi, Fire TV supports video up to full-HD 1080p, with HDMI and optical audio outputs, enabling up to 7.1 channel Dolby Digital Plus surround sound.
The launch was expected in 2013 and missed out on holiday season sales but it looks like it was worth the wait.
Fire TV supports Amazon Prime Instant Video, but also Netflix and Hulu Plus, where available. Music playback from Amazon and other services like Pandora is also available. Some services are currently missing, like HBO Go or Spotify.
Amazon can save and synchronise a video and music library across multiple devices, allowing users to pause playback on one and resume on another.
Games are available from leading development studios and Amazon says it is simple for developers to port games to its Mojito operating system, which is based on Android.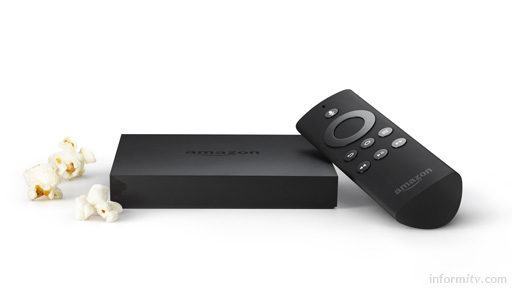 It comes with a remote control with an integrated microphone, promising "voice search that actually works" – so long as what you want is available from Amazon. The company claims you can simply speak the name of a movie, television show, actor, director, genre, app or game into the remote and the results will appear instantly.
It even tries to predict what you want to watch and buffers programming before a user presses play, to provide more immediate playback. Amazon calls it ASAP, or Advanced Streaming and Prediction.
Based on Android, it supports games, working with the remote control, one or more optional game controllers, or the Fire TV app for smartphones and tablets.
Naturally it works well with the Kindle Fire HDX, allowing users to 'fling' Amazon TV shows and movies to the television and control it with the tablet. Users can also wirelessly mirror the tablet display, with support for other Miracast-enabled phones and tablets coming. Fire TV supports standards like DIAL, so app developers can enable multi-screen experiences based on open technologies.
The Amazon FreeTime feature from the Kindle Fire provides powerful parental controls, allowing parents to set time limits for types of content and times of day.
Building on its customer service experience, the Amazon box comes pre-registered, so any previously purchased movies and television shows, as well as personalised recommendations will be available as soon as it is plugged in.
The Amazon Fire TV is more than just another streaming media box. It connects Amazon services to the television and works with a broad ecosystem of other devices and services.
It is a confident entry into the market that can compete very effectively with the likes of Apple and Google. Although more expensive than a Chromecast or Roku box, it is also more powerful and versatile. It presents a serious challenge to any other players aiming to enter this market.
"Tiny box, huge specs, tons of content, incredible price–people are going to love Fire TV," said Jeff Bezos, the founder and chief executive of Amazon.com.
While promoting its own services, Amazon is sensibly open to others and a relatively easy target for developers.
Amazon recently rebranded its European LoveFilm operation and integrated it as part of its Amazon Prime service.
Although the Amazon Fire TV can be used with third-party services like Netflix, Amazon will use it to promote its own online services. While Netflix has been incredibly successful as video subscription service, Amazon can offer a lot more besides.
The Amazon Fire TV could be the product that really takes Amazon into Prime time.