Boxee has announced a new box, called Boxee TV, which combines online video and broadcast television channels with unlimited network-based digital video storage. Like other disruptive innovations in this space from SimpleTV and Aereo, this latest attempt to bring more flexibility to the television experience will not be without its challenges.
Boxee TV effectively replaces the previous Boxee box, also made by D-Link, which will continue to be maintained but not receive any further updates and will no longer be distributed. It also builds on the experience of the Boxee Live TV add-on dongle.
Boxee TV users will be able to watch live television broadcasts in high-definition from channels like ABC, CBS, FOX, NBC, PBS and Univision, received either through an antenna or an unencrypted basic cable television service. The Boxee TV has two ATSC/QAM tuners, so users can watch one channel while recording another.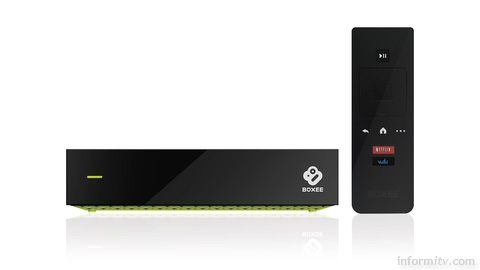 The big difference is that the Boxee TV has no local storage, but instead uploads recordings to the network. It says this means there are no limits other than their broadband connection to how much users can record or to where they can watch — on their laptop, tablet, or on television.
Boxee TV owners will be able to use their phone or tablet as a remote control or programme guide and schedule recordings remotely, and then watch recordings on any screen.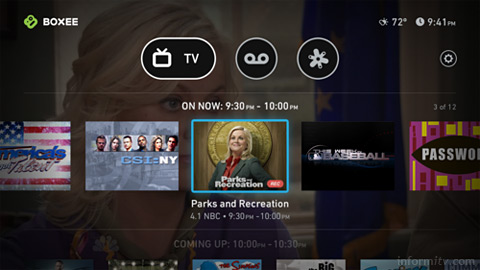 Boxee TV comes pre-installed with apps for Netflix, VUDU, YouTube and Vimeo, with Pandora and others promised. As with other Boxee products, the user interface is reported to be excellent, although the company appears to have dropped the full keyboard on the back of the remote control.
The service is rolling out to eight of the top television markets in the United States: New York City, Los Angeles, Chicago, Dallas, Houston, Atlanta, Philadelphia and Washington DC, although apparently not yet San Francisco, with others to follow in 2013.
The box itself costs $99 and will be available in November. Users can choose to become a digital video recorder subscriber and record as much as they wish and watch it on any screen for a not insignificant $14.99 a month.
Boxee recommends a minimum internet connection of 3 megabits per second download and 1 megabits per second upload.
Now, one megabit is not a lot for high quality video, let alone high-definition video. The asymmetric nature of most broadband connections, with relatively modest upstream capacity, has limited the usefulness of other attempts to teleport television out of the home, such as the Slingbox. Think of this as Slingbox with storage — place shifting with time shifting.
The real benefit of the Boxee TV may not be so much the virtually unlimited recording capacity, after all huge hard discs are inexpensive, as the ability to stream the result to any compatible device, in or outside the home.
Of course, it would be possible for Boxee to record the programme centrally, at the request of the user, for which there are some legal precedents. These may only apply to remote storage dedicated for each user, rather than a shared pool of storage, which would clearly be more efficient and economical.
Although Boxee TV will work with basic digital cable, the Federal Communications Commission recently ruled that cable companies are now allowed to encrypt basic cable services in the United States.
That means that over the air broadcasts, long disparaged by many Americans who as a nation have become hooked on paid services, will continue to play a key role in the provision of free television.
In other markets, like the United Kingdom and Australia, free-to-air broadcast television remains more significant, leaving more room for innovation for products and services like Boxee TV.
SimpleTV, is another contender in this space. It offers a box that also receives the major networks through either an antenna or a basic digital cable. SimpleTV has a single tuner. It streams to wireless devices within the home, such as an iPad, Mac or Windows computer, or via a Roku box to the television. It does not come with a disk drive, but buyers can add their own to enable recording. SimpleTV costs $199, including programme guide service fees for the first year, excluding the cost of any disk drive. On the face of it, SimpleTV, as opposed to "Smart TV", does not stack up well against the new Boxee TV.
Aereo, so far launched in New York City, employs centralised antenna reception to provide a solution that does not require a box in the home, and also offers a cloud-based digital video recorder. The service sells 20 hours of recording for $8 a month, or 40 hours for $12 a month. This may be limiting for some, given that many digital video recorders can now store hundreds of hours of high definition programming, while Boxee is offering unlimited network recording. Aereo is also subject to litigation regarding its legitimacy, which may take years to resolve through the courts. Nevertheless, with no need for consumer hardware, it offers an elegant solution.
All these products and services are targeting a similar opportunity. While some prospective purchasers may be co-called "cord-cutters" who want to avoid paying for television, the main market may be those that simply want more flexibility from their television experience.
The incumbent service providers and broadcasters have been slow in addressing the challenges and opportunities created by new technology and new forms of network distribution, with much at stake to protect their existing multi-billion dollar businesses.
So seduced by the perception that people only want to watch television on a large living room screen, the traditional businesses have made it unnecessarily difficult for people to watch television on other screens, on their own terms.
This leaves room for entrepreneurial new entrants, with little to lose other than the investment of their backers, to challenge the market with new products and services.
This market is really about the second screen, the laptop, tablet or phone, rather than the primary television display.
Whether people will want another box in the home is another matter. The limitations of having to connect an antenna or cable television input may limit its appeal.
Logically, this is a service that should be provided in the network. Legally, broadcasters will resist this. Ultimately, the major television service providers will have to offer something comparable.
Meanwhile, these new entrants will continue to test the waters, and the legal and commercial boundaries, but may struggle to reach the mainstream.
Of course, if Apple were to do something similarly disruptive, as some suspect, it could be a game changer, although the weight of expectation on Apple makes it harder for them to execute on a global scale.