The latest release of the zeebox television companion app adds a remote control feature. Virgin Media subscribers in the United Kingdom will be able to use the zeebox app on an Android smartphone as a remote control, while zeebox will automatically recognise which channel they are watching. Similar features will be coming to Sky+ subscribers and users with an Apple iPhone or iPad.
Users can open the zeebox app to see what is on television, what their friends or celebrities are watching. They can click on a show and their Sky+ or Virgin TiVo box will change to channel to that programme. If they use the traditional remote control to change channel, zeebox will detect the change and show the corresponding programme page.
"We believe seamless remote control is one of those killer features — integrated with our content, almost invisible, but completely embedded with the consumer experience," said Anthony Rose, the co-founder and chief technology officer of zeebox, "The coming months will see zeebox enabling seamless remote control for a range of connected TVs and set-top boxes in every region where our app is available, including the US."
He told informitv that zeebox connects over a local wi-fi network and uses DLNA Digital Living Networking Alliance and UPnP Universal Plug and Play protocols to query what is playing on the device and can control any number of set-top boxes on the same network, collectively or individually.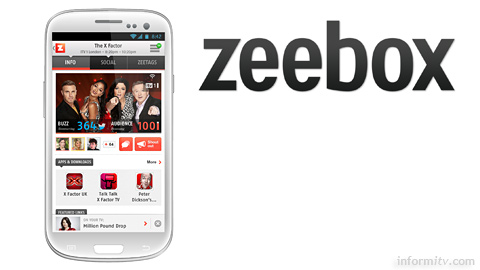 Two-way remote control represents the next phase of integration between television and the second-screen, enabling a range of new, interactive experiences. By acting both as a remote control and a channel detector, zeebox further automates the delivery of contextually relevant content and commerce opportunities to consumers while they watch television, whether they are using the zeebox app or their traditional remote control to change channels.
Previously, zeebox offered remote control for specific network connected televisions from Panasonic, Sony, Samsung and promised support for certain LG models. At the IFA trade show, zeebox demonstrated integration with products from Vestel, the Turkish company that produces televisions for a number of other brands.
The problem is that many people, particularly those in pay-television homes, change channel with the remote control for a separate set-top box.
Currently available as a new release for Android smartphones, the remote control functionality will be available on zeebox for the iPhone and iPad app by the end of the year.
Sky took a strategic investment in zeebox and has incorporated some zeebox functionality in its own apps, which already feature channel changing features.
In the United States, zeebox has announced alliances with Comcast Cable, NBCUniversal, HBO and Viacom, all involving investments and promotional commitments, as well as enhancing shows using zeebox. In Australia Zeebox has a joint venture with Network Ten.
Rapidly emerging as a leading international player in the second screen space, zeebox has the opportunity to become part of the fabric of how people view television in the future.
For many years, informitv has suggested that people do not necessarily need smart televisions, but displays that are intelligent enough to communicate on a home network. Television manufacturers still seem intent on making their sets the hub of home entertainment but integration with the rest of the television ecosystem, particularly with pay-television operators, remains critical to improving the television experience.
The significance of zeebox may not be so much about linking with Facebook and Twitter as providing a point of integration for interactivity on the second screen. While Facebook and Twitter have critical mass, they do not necessarily know what you are watching on your television, which is potentially very valuable information. With its remote control capabilities, zeebox becomes a real channel changer.