YouTube has announced the addition of a further 60 channels of original programming, including an extended deal with BBC Worldwide. The new global channels will cover a range of themes, joining the 100 original channels that YouTube launched in the United States a year previously. Speaking to a packed auditorium at the MIPCOM television programme market in Cannes, Robert Kyncl, the global head of content and partnerships for YouTube, said that its top 25 original channels are each now averaging over a million views a week.
He started by asking the audience which was more valuable — content or distribution. He observed that comedian Gerry Seinfeld created the most successful franchise in television history and is worth $800 million. In comparison, Haim Saban produced children's series like Power Rangers, subsequently sold Fox Family to Disney, invested in ProSiebenSat.1 and Univision and is now worth an estimated $3.5 billion. "Gerry had the audience. Haim owned it," he said. "That's the difference between content and distribution."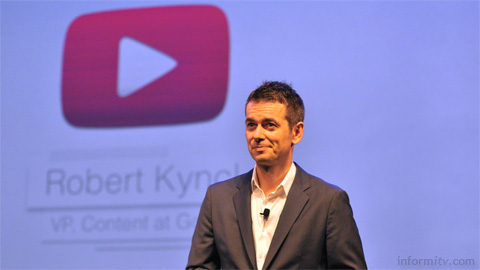 It was a mixed message to deliver to an audience of programme producers and distributors, the implication being that the real power lies with the distribution channel. As others later observed, you really need both content and a distribution channel, as well as the means to market your media.
He noted that large media companies derive more than two third of their gross income from owning the audience and distributing channels.
With 800 million people watching more than 4 billion hours a month, YouTube has significant distribution, particularly in terms of reach, although online video viewing remains marginal compared to traditional television.
"Audiences are rapidly changing and if you want to keep up with them you have to programme on YouTube," he said.
YouTube claims that its channels are making as much money per hour as cable television advertising. The secret is apparently making the ads skippable, as advertisers are prepared to pay more for engaged viewers.
Google owned YouTube has announced deals with many of the major companies distributing their programming at the MIPCOM market, although the terms of these deals were not announced.
They include brands from All3Media, Banijay, Endemol, Freemantle, Shine, Sony and Base79, formerly known as myvideorights.
The new YouTube channels will include cartoons, sketches, music, health, beauty, food, fashion, nature, motoring and science programming. There will be a Jamie Oliver food channel, a Guinness World Records channel, and On Earth, featuring archive natural history footage from BBC Worldwide.
Some suggest the total "forward investment" — effectively an advance against future advertising revenues — could be as high as a couple of million dollars. That is significant for those involved but not so much in the scheme of overall television production.
"Just like the cable networks expanded the broadcast universe thirty years ago, YouTube is expanding cable today," he suggested. "Start building your audience on YouTube today."
With the prospect of money on the table, some programme producers may find YouTube an attractive proposition. The longer-term risk is for broadcasters and other platform operators and aggregators who may be disintermediated in the process.