Jason Kilar, the chief executive of the online video service Hulu, gave a characteristically impressive performance at the MIPCOM programme market in Cannes. In his provocatively yet ironically titled keynote 'Online TV and the evil plot to destroy the world' he told delegates that his company has spent $500 million on content this year. The commercial impact of Hulu may be scarcely significant in the scheme of the television universe, but online aggregators threaten to disrupt the traditional model of television distribution.
"Companies such as Netflix, Google/YouTube or Hulu have been attending MIPCOM for several years, but mostly as buyers," commented Laurine Garaude, the director of the Reed MIDEM television division, which organises MIPCOM. "Today, they are very much involved in developing great content."
An example is a BBC show called Misfits, which Hulu introduced to American viewers by recommending it to its users based on their previous viewing. Notably, these personal recommendations address individual viewers by name, providing statistics on the correlation of viewing with other shows.
Many services offer automatic recommendations, Netflix being a prime example, but Hulu appears to have perfected this through in-house produced promotional trailers and viral videos, with up to 10% of recommendations resulting in a show being added to a personal queue of programmes to watch.
This is hardly surprising, given Jason Kilar's previous background at Amazon, which did much to popularise such so-called collaborative filtering. What is surprising is that it appears to have escaped traditional broadcasters more used to classic demographic marketing techniques.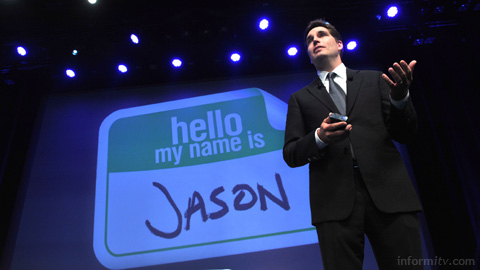 "In many ways it's literally reinventing the on-air promo," he said. "We don't just do this for Misfits, by the way, we do it for all of our series."
He also gave another example in The Thick of It, which is now a co-production between the BBC and Hulu. This was notable for a trailer with characteristically lively language, audacious by American standards, creatively produced in conjunction with Hulu by the programme creator Armando Iannucci.
Hulu is pioneering new advertising models, such as allowing users to choose from a selection of adverts, even changing part way through if they wish, or asking users whether they are relevant to them, feeding into personalisation profiles.
The company has filed around 90 patents over the last five years, many of them in the field of advertising. Hulu has also been a target of patent claims by others, so presumably feels the need to establish its own patent portfolio.
Hulu emphasises that it is an active buyer of programming from across the globe, with Jason Kilar promoting his personal email address, and those of his two main buyers, to anyone that may have a programme to distribute through the platform.
The Hulu approach, epitomised by its incredibly capable chief executive, appears refreshing in comparison to the world of traditional television. One might assume that its shareholders are delighted. Far from it, there are those television executives that would rather Hulu did not exist as it threatens to disrupt their much bigger businesses.
The success of Hulu is to a large part down to the determination and focus of Jason Kilar. With Providence Equity Partners selling its original 10% stake to the other shareholders for a reported $200 million, valuing the venture at two billion dollars, his options could make him a rich man, ready to move on if he is not removed first.
If there are strains in the relationship with the remaining shareholders — Disney, News Corp and NBCUniversal, now controlled by Comcast — they were not evident at MIPCOM. However, it was interesting that the chief executive of Hulu chose to promote its relationships with the BBC, with little mention of programming from its own studio partners.