DIRECTV says it has granted subscribers their wishes with the launch of Genie, which it claims is the most advanced and intuitive high-definition digital video recorder available. The home entertainment hub can record up to five programmes at once and provide a multiroom experience without the need for additional boxes. Service providers are offering subscribers increasingly sophisticated viewing capabilities to retain their loyalty and custom.
"We simply asked consumers what they wished for in the perfect television experience and then set out to develop as many of those features as possible in our new flagship HD DVR," said Romulo Pontual, the executive vice president and chief technology officer of DIRECTV.
"Gone are the days of scheduling conflicts, channel surfing, messy wires and boxes, missed shows and family fights over the remote. DIRECTV Genie's massive hard drive, five tuners and its sophisticated, intuitive search and discovery functionality creates a simple and magical television experience without the need for receivers in every room."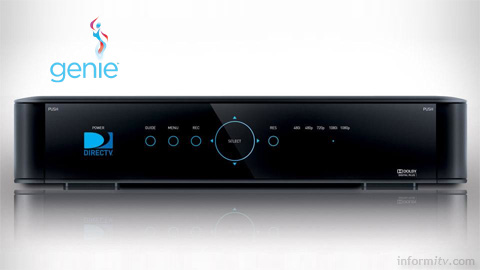 Genie supports RVU technology, based on DLNA or Digital Living Network Alliance standards, which allow the media server to deliver a Remote User Interface to other compatible devices within the home.
Up to eight RVU-enabled televisions can be connected to a single Genie, allowing subscribers to pause, rewind, record and view programmes on up to three additional televisions simultaneously.
Currently only certain Samsung displays are RVU certified, DIRECTV and Samsung being among the founding members of the RVU Alliance, together with Broadcom, Cisco and Verizon. There is the promise that games consoles and Blu-ray disc players will support the protocol in the future. Otherwise subscribers can use a small device called the Genie Mini to connect existing television sets.
Genie comes with a terabyte of storage, allowing up to 200 hours of high-definition programming to be recorded. It can recommend and automatically record shows based on previous viewing.
New customers can have the Genie and up to three Mini clients for free providing they sign up to a two-year contract at a premium for the advanced service. It will be available to all subscribers later in the year. The Genie has a list price of $299, with Mini clients at $99. Both are manufactured by Pace.
The DIRECTV Genie competes with the Dish Network Hooper but lacks its controversial ability to skip commercials automatically, currently subject to litigation with various television networks.
DIRECTV had almost 20 million subscribers in the United States at the end of March 2012 but lost 52,000 in the following three months. The company said this was partially due to stricter credit policies.
Dish lost around 10,000 subscribers over the same period, with just over 14 million subscribers, although it said promotion of its Hopper box resulted in an increase in gross subscriber activations.
Satellite television providers are obliged to offer increasingly sophisticated viewing options to retain the loyalty of their customers in the face of competition from cable and telco operators and other services delivered over the top of their broadband networks.