The Olympics has a track record of attracting a large number of television viewers. It is 64 years since the Olympics were last in London, the first time they were televised by the BBC. Over three quarters of adults in the United Kingdom say they will watch coverage of the London 2012 Olympics, although the final figure may be higher. One in five also say they will follow the games online, through a computer, tablet or mobile phone. Over half of adults in the country say new technology will make accessing coverage of the Olympics easier.
Back in 1948, there was only one television channel and only an estimated 100,000 receivers in the country. Of nearly 70 hours of live coverage, less than a minute remains today, in a recording of the opening ceremony.
By contrast, an estimated 73% of all individuals over the age of 4 in the United Kingdom watched at least a 15 consecutive minutes of Olympics coverage in 2008. On average they watched for nearly nine hours in total. The time difference between Beijing and the United Kingdom resulted in lower numbers than for the previous Olympics in Athens. In 2004, 83% of individuals watched for an average of over 13 hours.
Only an estimated 5.4 million people in the United Kingdom watched the opening ceremony from Beijing and Olympics programmes did not feature in the top 50 programmes in 2008.
With London hosting the 2012 Olympics audience interest in the United Kingdom is expected to be significantly higher.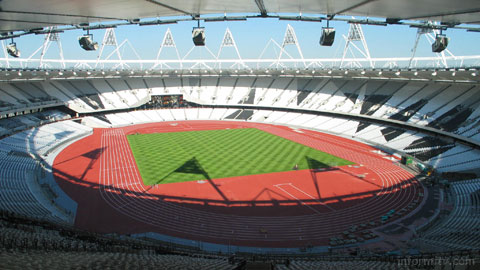 The BBC has the domestic television and radio rights for the London 2012 Olympic Games and has renewed them for the next eight years, continuing unbroken coverage since 1960. The corporation has faced criticism over its commitment to sport as rivals pick up coverage to many sports that are not explicitly listed events which have protected coverage on free-to-air television.
"Over the next few days, BBC Sport will begin coverage of the single most important sporting event in the history of the BBC," said Mark Thompson, who is coming to the end of his tenure as director general of the BBC. "The great thing is that they — and all their colleagues in our brand new sports centre in BBC North — will head into the 2012 Games knowing that, notwithstanding the doom-mongers, that sport is here to stay on the BBC not for a year or two but for the long term."
The BBC will broadcast 2,500 hours of live coverage of every London 2012 Olympic sport, from every venue.
"The London 2012 Olympic Games is likely to be the biggest sporting event in the UK in our lifetimes and the BBC's coverage will ensure that our audiences need never miss a moment," said Roger Mosey, the BBC Director for London 2012. "We will be bringing live coverage of every Olympic Sport from every venue, both through a combination of BBC One and BBC Three and up to 24 simultaneous streams live online on PC, mobile, tablet or connected TV. These services will be complemented by coverage on Radio 5 live, mobile and tablet, while the majority of cable and satellite viewers will be able to access the 24 channels on their providers' platform through the BBC Red Button."
The BBC and Eurosport, which holds the pan-European rights, will provide 3D coverage of some events. The BBC also plans to screen Super Hi Vision coverage in ultra-high definition at three sites.
Consumers have many more means of viewing the Olympics in 2012 compared to previous years. 76% of adults in the UK have broadband at home, compared to 58% in 2008. 39% now have a smartphone, while 11% have a tablet, 5% have a smart television, while 47% have a digital video recorder in their home. Social media is now far more prevalent.
A representative of survey of adults in the United Kingdom, conducted two months before the Olympics, suggested that 19% are likely to follow events online, either through a computer, mobile phone or tablet. Men are more likely to so than women, 25% compared to 12%, Around a third of 16-24 year olds say they are likely to follow coverage of the games online, with 19% on their mobile phone.
Over a third of adults said they were likely to follow as much of the Olympics as possible, while a further 30% said they will probably only watch the finals of the biggest events. Two-thirds of adults say it is likely they will watch coverage as it happens, while 22% said they were likely to watch highlights coverage on television, 9% think they will watch recorded coverage on their television and 6% said they would probably use catch-up services.
Over half of adults and almost two thirds of young adults agreed that new technology is going to make accessing coverage of the Olympics easier.
A fifth of those surveyed said they were likely to follow the Olympics on many different devices, rising to almost a quarter of men and 30% of 16-24 year olds. A quarter of adults and almost half of young adults thought that social networking sites like Facebook and Twitter would make following the games easier. Around one in ten adults and one in four young adults said they were likely to read or post messages while they were watching or listening to coverage. 15% said they were likely to look up information about the games while watching or listening, rising to 27% among 16-34 year olds.
With saturation coverage of the London 2012 Olympics across 24 streams of high-definition television, viewers in the United Kingdom will be better served than ever. It will be interesting to see how this changing media landscape changes the perception of the Olympics and sports coverage in general.
The research was conducted by Kantar Media for the communications regulator Ofcom. Over 2000 people aged over 16 were interviewed face-to-face in May 2012. The findings are included in the Ofcom Communications Market Report 2012, which provides a wealth of data about the use of communications technologies in the United Kingdom.