At a low-key launch event, YouView unveiled its long-awaited digital video recorder, which will apparently be in the shops by the end of July, theoretically in time for the Olympics, initially priced at £299. It also revealed that Sky will be a programming provider, with its Now TV offering programmes on a pay-as-you go basis. William Cooper of informitv takes a wry look at the long-awaited launch of YouView.
Given the backgrounds of some of the shareholders, we might have expected a dramatic showcase of industrial theatre to launch YouView, which promises to change the way we watch television forever.
Instead, rather like a real-life episode of The Apprentice, the low-budget launch event was held in the main debating chamber of County Hall, the former council building on the Thames, which now houses among other things the London Film Museum.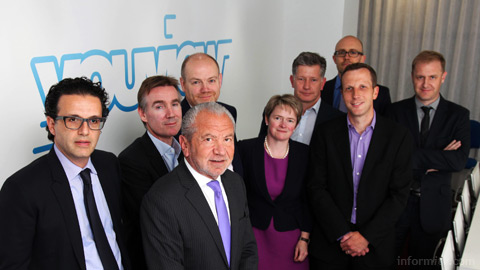 It was a bizarre spectacle, in which Lord Sugar, the chairman of YouView, looked down as if in judgement on the chief executive, Richard Halton, who gave a polished presentation of the new box.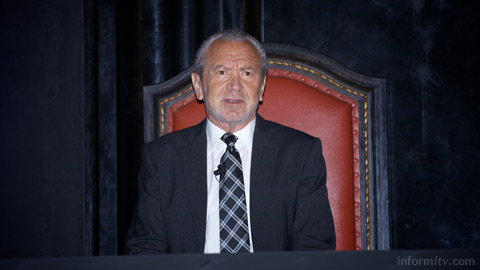 High up on either side the senior executives of the shareholding companies in the consortium sat mainly silent, jurors on a television proposition where the audience will determine the outcome. With critical questions from the assembled media, it felt as it YouView was on trial, in more senses that one.
Mark Thompson, the director general of the BBC, one of the main backers of the project, spoke briefly in response to a question but had to leave the room at one point, around the time the BBC Trust announced his successor, George Entwistle.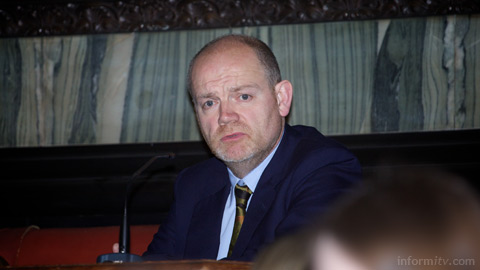 Lord Sugar handled many of the questions, speaking with characteristic candour, without notes. At one point he described the launch offering as a "carcass of this great new television experience" with a "minimum amount of content and facilities and features". Apparently the road map includes products with even fewer features, such as a zapper box with no storage and the possibility of integration in a television.
It seems that after spending almost four years and £70 million, the YouView team has come up with a digital video recorder. A bit like the digital video recorder that BT came up with five years ago, based on Microsoft software they since seem to have regretted using. In five years, BT has only managed to gain 700,00 users, despite giving the box away to its customers with prices starting at £4 a month.
The clever bit with YouView is that previously transmitted programmes are available over broadband, seamlessly integrated through a single user interface. No one else can do this, because the broadcasters involved in the project have not let them. Whether they will be able to maintain that position will be a question for regulators.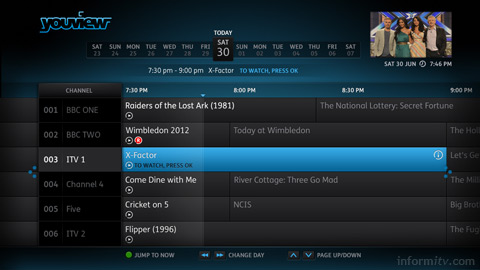 There are no apps, as yet, and no media sharing, no social features, no second screen integration. It has been kept deliberately simple. As far as YouView is concerned, it is all about making the current broadcast schedule easier to access. But that is currently as far as it goes.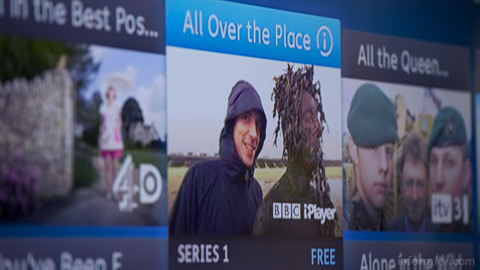 So it is that Humax, a Korean set-top box company, has produced a digital video recorder, rather similar to a product it launched two years ago, with the special YouView user experience. We are told it will be in the shops by the end of July, hopefully in time for the Olympics. Retail partners include Amazon, Argos, Comet, Currys and John Lewis. The box will initially sell for £299, a premium price point that will inevitably be discounted. Lord Sugar suggested he would not be surprised if there were products for £99 in a couple of years.
The box is currently being trialled in over 2,000 homes, offering a very short window for testing before going on sale.
Surprisingly, it does not include WiFi, so it will require a wired broadband connection.
Lord Sugar said that ease of set-up was important for users. "You can't get easier than this," he said. It needs an aerial connection, an internet connection and a mains plug. "With greatest respect if they can't understand that they shouldn't be watching TV."
Although YouView should work with any broadband provider, special boxes for BT will be produced by Pace, while those for TalkTalk will be delivered by Huawei. They were not available for demonstration. So far none of the major consumer electronics companies, like Samsung, LG, Sony or Panasonic, are involved, nor are original partners Cisco or Thomson.
BT and TalkTalk will each have their own programming offering on YouView, available to subscribers of their broadband services.
With little to add to what was already known, the main news of the event was confirmation that Sky was on board, at least as a programming provider with its own NOW TV subscription free service.
A shrewd move on the part of Sky, it will provide some of the most popular programming from Sky on a pay-as-you-go basis, starting with Sky Movies and expanding to include sport and entertainment.
Part of the reason for setting up YouView as separate to Freeview was to keep Sky out, so it was with some reluctance that they were announced as one of two programming partners announced, the other being Scottish television, a part of of ITV that ITV does not own.
Freeview and Freesat will continue alongside YouView, which makes for a muddled marketing message. This will be further complicated by the involvement of Sky.
YouView seems to have come up with an easy to use digital video recorder, with probably the best user experience on the market. But after four years and £70 million it had better be good. Whether it will be good enough is another matter. For many people it may be, but for others, after all the anticipation, it seems it still has some way to go. Marketing will be critical to the success of YouView. The consumer launch had better be something special.