While YouView is the focus of media attention in London, the French public service broadcaster France Télévisions has already launched its Salto service and enhanced its Pluzz video on demand offering. Salto allows viewers with a compatible connected television to restart the current programme from the beginning. Further pause and rewind features are planned. So will people still need their own digital video recorder?
Salto, which means somersault, jump or backflip, will be available on the evening programmes, from eight o'clock to midnight, across five national channels. An onscreen prompt appears when Salto is available, inviting viewers to press the blue button on their remote control to return to the start of the programme.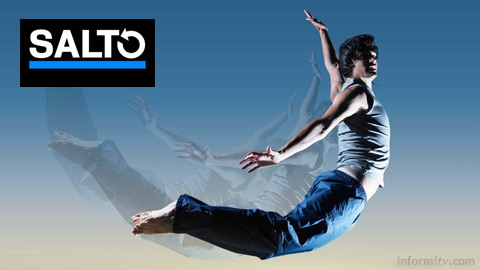 There are plans to extend the restart function to allow pause, rewind and fast forward functions.
The BBC recently added a similar restart facility to its online iPlayer, but the feature was not mentioned at the launch of YouView. The YouView platform offers more a more extensive ability to scroll back through the guide and view programmes from up to seven days previously on partner channels. However, it requires consumers to have a YouView digital video recorder.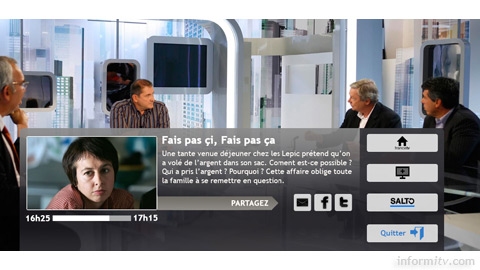 The Salto system works with any HbbTV compatible connected television receiving France Télévisions channels through digital terrestrial transmissions. It will later be available for other modes of reception.
"We are convinced that Restart will meet a real need felt by DTTV viewers," said Franck Langrand, director of the television division of TDF, the French transmission services group.
The service has been developed for France Télévisions by TDF subsidiary Cognac-Jay Image. Distribution is being managed by SmartJog, another TDF subsidiary.
TDF encodes programmes to be offered through Salto in formats compatible with HbbTV 1.1 and HbbTV 1.5, signals the service through digital terrestrial television, and delivers the programmess on demand through its online content delivery network.
"We now estimate the number of connected televisions at 2.5 million and we believe, very conservatively, that by the end of the year, this new service will attract at least 300,000 viewers," Bruno Patino, deputy director of digital development at France Télévisions told Le Figaro.
France Télévisions is also enhancing its existing on-demand service Pluzz with social features and recommendations. Pluzz will also soon be available on Samsung connected televisions.
All this raises the question of whether viewers will need their own domestic digital video recorder in the future, or whether they will be able to rely on network services delivered online to connected screens.
There may still be a place for local storage in the home, at least until issues with programmes rights are resolved to allow network recording to become a standard feature.
In the longer term, it seems likely that viewers will simply expect to be able to scroll back through programmes, view previously broadcast shows and access achive video on demand through whatever network connected screen happens to be most convenient.
www.francetelevisions.fr
www.cognacqjayimage.com
www.smartjog.com