Apple executives have been discussing their vision for the future of television with media executives at several large companies. The Wall Street Journal reports that Eddy Cue, senior vice president of internet software and services at Apple, has been among those involved in the recent meetings. The report will add to speculation that Apple is planning to transform the television experience.
Apple reportedly outlined ways in which users could be recognised across phones, tablets and televisions, allowing viewers to continue a viewing experience across different devices using a version of AirPlay. To an extent this is already possible with Apple technologies. Apple AirPlay is available for licence to other manufacturers.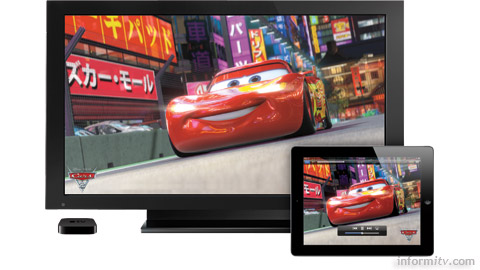 In at least one meeting Apple described how it would be possible to respond to the voice and movements of the user. Again, Apple has the Siri personal assistant on the latest iPhone and voice recognition and movement sensing on other devices. It does not currently have the equivalent of the Microsoft Kinect remote gesture recognition, but that level of sophistication may be unnecessary.
Apple has apparently been working on integrating digital video recorder storage with its iCloud service, allowing users to pause and resume watching across different devices without having to record or buy shows on each one. Apple is steadily moving the responsibility for synchronisation away from the personal computer as a home hub and into the internet cloud, which offers much more flexibility. It has invested significantly in hosting infrastructure to manage this.
However, those familiar with the meetings said that Apple is still saying little about what specific software and devices it is working on and has not made proposals to licence shows for any new product offering.
The Journal, which is ultimately owned by News Corporation, says it remains unclear what kind of cooperation Apple is seeking from media companies. Apple has previously had mixed success in negotiating new business arrangements with television companies for its iTunes store.
Back in 2010 the late Steve Jobs, then chief executive of Apple, met with a series of cable and satellite executives to discuss next-generation television services for Apple devices, the paper reports.
Speculation has about the possibility of an Apple television has increased since the publication of the authorised biography of Steve Jobs. In one of his last interviews he said he would like to create an integrated television set that would be seamlessly synced with other devices and iCloud, with the simplest user interface you could imagine. He said: "I finally cracked it."
This latest report adds little new information but adds credibility to the suggestion that Apple sees television as more than a hobby.