Eric Schmidt, the executive chairman of Google, claims that by the middle of 2012 the majority of television sets on sale will include Google TV. His comments come after the release of version two of Google TV, now available to owners of Logitech Revue boxes. If that is anything to go by, consumers are likely to be disappointed. In the longer term, Android could yet do for smart televisions what it has done to smart phone market.
Speaking at LeWeb conference in Paris, Eric Schmidt explained: "There's a lot of people who are concerned about the future of television, so we thought, is there an opportunity to integrate the internet and television in a new way? So we took Android and Chrome, and combined them and stuck them inside a television."
Some might way that is as far as the thought process went, but the executive chairman of Google continued: "It looks like its working. We've just released version two and by the summer of 2012 — the product cycles are long — the majority of the televisions you see in stores here will have Google TV embedded."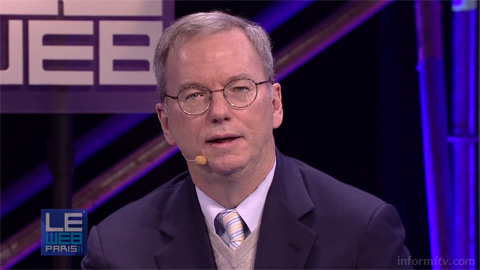 Time will tell if his optimism is justified. The upcoming CES convention in Las Vegas in January will be an indicator of how far manufacturers will be going with Google.
Google has certainly had a disruptive effect in the mobile space. In the last quarter the Android platform accounted for just over half of smart phone sales to end users, according to Gartner, with some 60 million devices sold worldwide in that period. That compares to sales of 17 million Apple iPhones running iOS, a 15% share of smart phones sold.
Originally developed by Android, a company acquired by Google in August 2005, development of the operating environment is now led by Google through the Open Handset Alliance, which was unveiled in November 2007, in apparent response to the Apple iPhone, released earlier that year.
Eric Schmidt was on the board of directors at Apple from August 2006 to August 2009, when it was announced he was to resign from the board, as a result of increasing competition between Google and Apple. Steve Jobs never forgave Google for entering the mobile market.
Despite rumours that Apple is preparing to enter the television market, Google may yet repeat its success with Android on the large screen, if it can persuade major manufacturers like Samsung to back it rather than their own approaches.
Google TV Revue
Owners of the Logitech Revue, the companion box that was part of the original launch of Google TV, will have recently received a free software upgrade to Android 3.1, known as Honeycomb. The update includes a simplified user interface, access to the Android Market for apps, and an improved DLNA compatible media player for accessing photos, music and videos stored on a home network.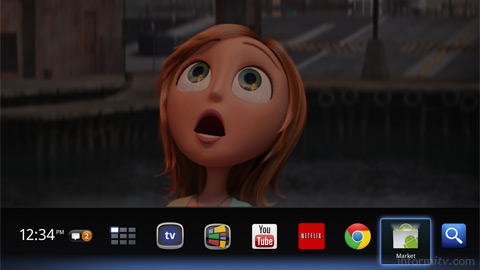 Logitech released the update having ceased production of the Revue and steeply discounted remaining inventory. User forums suggest that the update was eagerly awaited but our experience of the updated version has been underwhelming.
The primary user interface is now a customisable launch bar that can be brought up as an overlay by pressing the home button on the Logitech keyboard. This features icons for apps, television, a selection of online television shows and movies, access to Netflix and YouTube, the apps Market, a Google Chrome web browser, and a Google search bar.
Even at this level it is unnecessarily confusing. The system settings are accessible through the apps section, where the other features are also replicated, including the Android Market, along with a number of other supplied apps, including Napster, Pandora and Twitter. This redundancy suggests a lack of clarity and confidence in the navigation.
Only around 50 apps have so far been optimised for the Google TV platform and the selection currently available is arbitrary and uninspiring.
Of interest may be a SlingPlayer web app that allows users to control and view the output of a SlingPlayer, in another room or another country.
The Google TV design is functional, as with so many things from that stable, but lacks the flair and finish of an Apple product. It looks like it has been designed by engineers.
However, in many ways the Revue product is a proof of concept rather than the finished article. Android is a relatively open environment and manufacturers will be able to customise the user interface to a certain extent their own requirements and design.
What is more intriguing is the potential of an open operating environment and market for interactive television that enables integration with the web and mobile platforms, providing the scale to reach a significant audience. That presents a clear alternative to the relatively closed ecosystem of Apple.
In the open versus closed dichotomy of the digital era, the more open environment typically ends up winning market share, even though the user experience of the closed system may be better.