Zeebox, the social application for television, modestly claims to be "The best thing to happen to TV since TV". In addition to the Apple iPad, the Zeebox app is now available on the iPhone and iPod Touch, in time for Christmas viewing. An Android version is in development. If anything, cut down to handset size it feels more at home on the phone. Zeebox is a companion to Twitter and Facebook as much as television.
The app has been developed for Zeebox by Electric Labs. The iPhone version has a similar interface to that of the iPad and it must be said is beautifully designed, making good use of the available screen area. While on the iPad it only can only be viewed in horizontal orientation, on the iPhone it can only be viewed vertically. Otherwise, it has similar features and arguably the same flaws.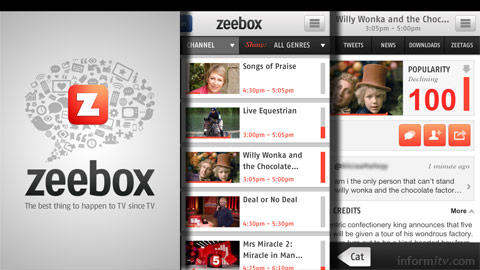 As informitv noted at the launch of Zeebox, the premise of this television companion is that you can see what others, including your Facebook friends using the application, are saying about television shows as they are transmitted.
There are clearly people that find this entertaining. Stephen Fry was invited to view Zeebox and tweeted that "It may change everything about the way we watch TV forever."
The reality is that the bizarre banality of most comments seems deeply depressing. All the more irritating is that due to the limitations of keyword associations many of them are obviously irrelevant.
Television executives have long professed a wish to engage more with their audiences. They have talked about water cooler moments of shared television experiences. No longer do they need to wait for the water cooler. Viewers can now share their views in real time.
As an insight into the minds of the viewing public, Zeebox is entertaining in itself. This, my friends, is what they are thinking. Whether knowing that will add to your viewing pleasure is a matter of opinion.
The Zeebox app also shows the current relative popularity of programmes among Zeebox users, based on the comments they are viewing. There are no absolute numbers, so it is difficult to know how many people are actually engaged in this, and for many of the channels it seems no-one is watching.
Allowing people to publish their most idle thoughts lies at the heart of the success of Twitter and Facebook, on which Zeebox is heavily dependent, so there may well be something in this.
The vast majority of the comments come from outside Zeebox, which essentially aggregates and organises them to appear contextually relevant.
The business model is based on the transactional opportunities that can be created by knowing exactly what someone is watching on television, including commercials, and allowing them to interact directly.
What currently seems to be lacking is a more accurate mechanism of linking and synchronising comments to programmes. One might hope that the team is working on that, to allow comments to be replayed when programmes are watched asynchronously, timeshifted or on demand.
The most remarkable feature of the Zeebox app is perhaps that it can be used as a remote control for selected smart televisions, or even follow the currently selected channel. That promises to offer deeper integration between the programme actually being viewed and the running commentary on a companion screen. Although that addressable market is currently small, this may be where the true innovation for connected television viewing really lies.