The global BBC iPlayer app for the Apple iPad is now available in Canada, although it has yet to launch in the United States. It offers a remarkable range of current and classic BBC programming for a little less than nine dollars a month or $84.99 for an annual subscription. So informitv asks how many subscriptions worldwide would the BBC need to sell to make this worthwhile, and why is it not available in the United Kingdom?
"We're proud to be building on the successful launch of this app by introducing it to Canada," said Jana Bennett, the president of worldwide networks and global iPlayer at BBC Worldwide, the commercial arm of the BBC. "It will open up the opportunity for a whole new audience to enjoy the best moments from seventy years of brilliant BBC programmes, wherever and whenever they want."
Unlike the BBC iPlayer catch-up service available in the United Kingdom, the global iPlayer features a selection of current and classic programmes, showcasing the range of BBC television output.
The global BBC iPlayer is available as a subscription service in a number of European countries for €6.99 a month, for $9.49 a month in Australia, or $8.99 a month in Canada.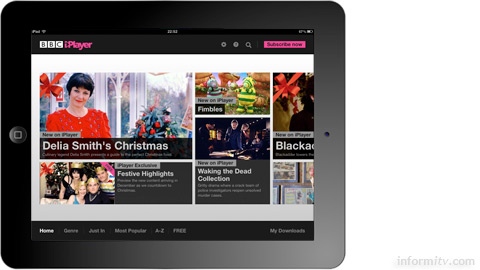 Currently only available on the Apple iPad, there are plans to extend this to the iPhone and Apple TV, and presumably any forthcoming television product from Apple. Support for other platforms may come in time.
The total addressable market for the Apple iPad is around 40 million units worldwide, although there are more than four times as many iPhone and iPod Touch devices.
The key question is what would constitute commercial success for BBC Worldwide?
Assuming that the global BBC iPlayer reached a million subscribers, or around the same number as Hulu Plus in the United States, that would represent a gross annual revenue of say £56 million. Of that, Apple would typically take a 30% share. Assuming conservatively that the annual operational expenditure is £10 million and half of the net remainder is returned to rights holders and creators, that would leave around £15 million to return as a contribution to the BBC, slightly less than the benefit to Apple.
On the same assumptions, the break-even figure for the global BBC iPlayer would be around 250,000 subscribers worldwide, although of course Apple makes money on every one.
Now, if we assume that the global BBC iPlayer were to be as successful as Netflix, with say 20 million subscribers across a wide range of devices, resulting in a lower retailer margin of 20%, that would produce a gross revenue of over a billion pounds and a return to the BBC of say £320 million.
While significant, in the context of the annual BBC turnover of £3.6 billion it represents less than a tenth of total BBC income, which is less than the corporation needs to find in efficiency savings to balance its budget over the coming years.
So, the global BBC iPlayer would need around 150 million subscribers worldwide to reduce the reliance on the domestic television licence fee to zero, which seems unlikely in the near future.
In any case, success on that scale would undermine the conventional channel distribution business, which is worth over £300 million to BBC Worldwide, although it only produces profits of around £40 million.
Last year BBC Worldwide contributed only £182 million back to the BBC, on a turnover of £1,158 million. Its digital entertainment business area, which includes BBC.com and global BBC iPlayer, made a loss of £6.8 million on sales of just £27.1 million, up from £14.5 million the previous year. Total revenue from digital businesses, including that embedded in other areas, was £81.9 million. That compares to a profit of £48.9 million on sales of £234.8 million on consumer products, including books and DVDs.
The global BBC iPlayer is an excellent product, which offers access to a wide range of BBC programming to subscribers through a clean and uncluttered user interface. If anything, it is a clearer proposition than the BBC iPlayer available in the United Kingdom, which remains locked in the world of channels and schedules.
Which begs the question, why is the global BBC iPlayer available in many European countries but not in the United Kingdom? BBC Worldwide sells magazines, books and discs in the United Kingdom, so why not an online video subscription service?
The reasons are clearly complex, but the reality is that it would not produce significant revenue and it would establish the uncomfortable precedent of a subscription model that would further threaten the rationale for the television licence fee, while eroding the market for physical disc and box-set sales.
The BBC iPlayer service for recently transmitted television programmes has around 5.7 million users a week in the United Kingdom. Optimistically assuming that half of those were prepared to pay £5 a month to subscribe to a back catalogue of BBC programming, the gross return to the BBC would only be around £110 million, a significant proportion of which would be returned to rights holders and creators.
All of which demonstrates the difficulty of managing the migration of a traditional media business into digital distribution without exchanging dollars for dimes, or pounds for pennies.
In practice, it might be more in the long-term interests of the BBC to make its library material freely available to British licence fee payers, rights permitting, in order to continue to justify the funding it receives. Now that would be a radical proposition.