Sir Martin Sorrell, the chief executive of one of the largest advertising groups in the world, forecasts that two to three out of four homes will have internet protocol television within ten years, although he believes that broadcast television will remain a dominant medium. Speaking at the Intel Shaping the Future of TV event in London, the chief executive of the WPP Group was reasonably positive about the prospects for broadcast television channels, but suggested that spot advertising will be a diminished force, as pay-television revenues rise.
Over the last 24 years, the former finance director of Saatchi & Saatchi turned a shopping basket firm, Wire Plastic Products, renamed WPP Group, into a holding company that bought up legendary advertising agency names like JWT and Ogilvy & Mather. Its GroupM media planning and buying group accounts for almost a third of media billings worldwide.
"GroupM believes as an organisation that commercial television in the United Kingdom has a much stronger future than many commentators have hitherto argued," said Sir Martin Sorrell. Naturally he has a vested interest in the health of commercial television.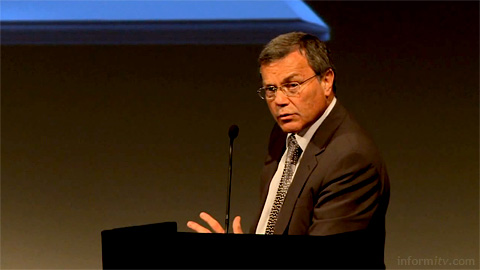 "Technological developments, particularly IPTV on-demand services will work around broadcast TV rather than displace it. So broadcast TV will still remain a dominant medium," he said. "Consumers will still continue to watch in largely traditional ways, supplementing their live viewing with selected time-shifted or on-demand content."
"As a result, spot advertising will continue to be a strong medium, though a diminished force, and advertisers will use the new distribution methods to develop more diverse means of communicating with consumers through TV content."
"The next ten years will see a steady transition to mainstream IPTV delivery," he said. "We estimate that about 50-75% of households will be IPTV by 2020."
"Secondly, traditional modes of viewing will remain resilient even in an IPTV delivered world. Approximately 75% of all viewing will still be linear in 2020. So although the capability is there, the distribution is there, take-up will still not be as fast as some people would believe."
"Thirdly, advertising will continue to be a critical, though smaller and more varied source of TV funding. The proportion of TV industry revenue accounted for by advertising is likely to fall to 20-25% in 2020, from 31% today."
"Fourthly, pay-TV will make up an increasing proportion of TV funding. Pay in our view will grow from about 39% of TV industry revenue today to between 50-60% by 2020."
Sir Martin Sorrell said that in the United Kingdom the winners would be Sky, Virgin Media and BT. His projections for the uptake of IPTV exceed the forecasts of many analysts, although as informitv has previously predicted, the rise of network connected television devices and displays could transform the industry.