Hulu has soft launched an advertising supported subscription service to complement its existing online video offering. Initially available by invitation, and only within the United States, it features full seasons of many current television series and an entire back catalogue of every episode for many titles for just under $10 a month. The service is also designed to stream directly to television devices and displays although it does not support as many as Netflix, with which it has inevitably drawn comparisons.
The Hulu Plus subscription service includes every episode to date of the current season of shows from the ABC, NBC and FOX networks that are partners in Hulu, including titles like House and Grey's Anatomy. Subscribers can also catch up on any episode from every season of shows like Lost or Desperate Housewives, as well as many other series. Missing are titles from CBS as well as premium cable channels, like HBO and Showtime.
The subscription service is being promoted as "More wherever. More whenever. Than ever." Jason Kilar, the chief executive of Hulu, described it as "a treasure chest in the cloud for TV lovers".
As well as a standard web browser version, there are applications for the Apple iPhone, iPod Touch and iPad. The Hulu executive said he had been watching Hulu on his iPad for several weeks and had watched more television that way than on any other device.
Hulu Plus is also coming to the television screen. An application is already available for Samsung Internet@TV network-connected televisions and Blu-ray disc players, with support planned for Sony devices, including the PS3, Vizio displays and disc players, later this year, followed by the Microsoft Xbox 360 early in 2011.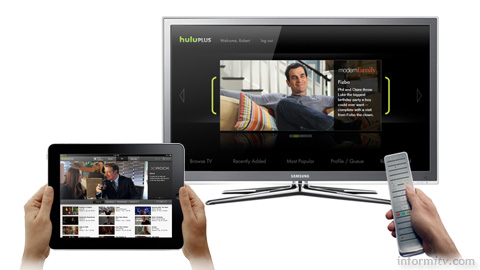 All high-definition material will be streamed in 720p format. Users can stop watching on one device and pick up just before where they left off on another.
The subscription service still carries advertising, which has attracted some negative comments, but commercially that seems inevitable in order to keep the subscription price relatively low.
Hulu is the second most popular online video site in the United States, delivering 1.175 billion video views in May, with 43 million unique viewers watching an average of 27 videos a month, according to comScore estimates.
Hulu Plus has prompted comparisons with Netflix, which is primarily a movie service but includes a subset of the same television titles among around a thousand series of shows. Hulu has the advantage of access to episodes from current seasons. Netflix has the advantage of having been around longer, with a large catalogue of movies, wide support on different devices and more resources for development, with 14 million existing subscribers, and no interruptive advertising.
Some have suggested that services like Hulu could be cable killers. The fear that users will cut the cord on their cable subscriptions has yet to be confirmed. Such services seem to be a supplement to rather than a substitute for pay-television, and are priced accordingly. In any case, users will still need a broadband connection.
In practice, most of this programming was previously available on free-to-air broadcast networks, so cable companies are not necessarily losing out. They still have exclusive premium programming, particularly sports, to differentiate their television offering.
The cable companies are working on their own TV Everywhere initiative, to offer online access to shows for their subscribers, but this is trailing behind the advance of Netflix and Hulu. It remains to be seen how that will play with Hulu, in the event that Comcast acquires NBC Universal.
In the meantime, Hulu Plus is a step further towards the vision of being able to access any episode of any previously broadcast programme, anywhere at any time.