Sezmi, a startup company originally known only as Building B, is planning to launch a hybrid set-top box that combines broadcast and broadband programming to create a personalised viewing experience. Sezmi is starting pilot trials in preparation for commercial launch later this year and says it has entered into agreements with broadcasters in its initial markets in America.
Sezmi aims to delivers broadcast and cable network television, movies and online programming in a simple single package, providing a consistent interface across live, stored, on-demand and online video.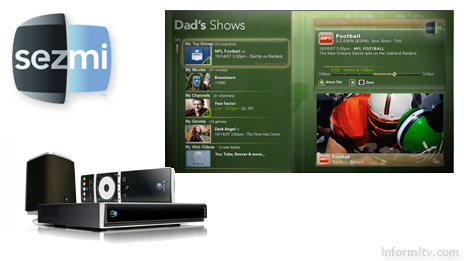 Moving away from the linear schedule and appointment to view programming, Sezmi organises titles as lists that it says dramatically simplify browsing and discovery. Subscribers can share playlists with family and friends, rate programmes and view recommendations.
It offers a way for broadcasters, who transmit local channels in high-definition, to compete with satellite and cable. The plan is to enable local broadband providers to offer the Sezmi as part of a triple-play video, voice and data service. It could be attractive to independent telcos or wireless network providers, competing with cable and the larger telecommunications companies that are already offering video services.
Sezmi was co-founded by entrepreneur Dr Buno Pati with Phil Wiser, former chief technology officer of Sony America.
"Sezmi focused on the television consumer and built an entirely new television offering from the ground up to meet the needs of viewers that want a premium experience at an affordable price," said Buno Pati, the chief executive of Sezmi. "We have rallied support across multiple industries and are excited to work with our partners to offer a new and differentiated TV choice to consumers."
"To deliver the full range of content that consumers expect at an affordable cost we had to create a network that overcame the limitations of broadband and better aligned with mass market content consumption," said Phil Wiser, who serves as chairman and president of Sezmi. "Our integrated solution seamlessly combines the efficiency and scale of broadcast delivery with the interactivity and access of broadband. As a result, we are able to deliver a next generation television experience to a much larger group of consumers, and we can do it today."
Sezmi will come with a remote control with buttons that can be associated with individual members of the household. The set-top box will have around a terabyte of storage, able to store hundreds of hours of video. The company has also developed a network-attached indoor antenna that looks a little like a loudspeaker.
Sezmi will use a datacasting system it calls FlexCast to distribute video using capacity on digital television broadcast networks, without the need to upgrade existing broadband infrastructure.
A number of other ventures have previously attempted to use broadcast bandwidth for data services, notably Moviebeam and USDTV.
At NAB last month, the company then known as Building B announced a partnership with Harris Corporation to co-locate its network operations centre with their facilities at Melbourne in Florida, using Harris technology.