The BBC iPlayer, previously only an online service, is now available on Virgin Media cable television in the United Kingdom. Cable viewers will be able to watch high quality pictures on their television screen without waiting for programmes to download.
Virgin Media customers can catch up on previously broadcast programmes by pressing the red button on any BBC channel. Access through the electronic programme guide will be available later this year.
Over 350 hours of BBC television from the previous seven days will be available. There are plans to add radio output in the future, with the possibility of high-definition programmes as well.
Some BBC programmes have previously been available through the Virgin Media video-on-demand service. The launch of the iPlayer on Virgin Media sees a wider range of programming made available through BBC branded interactive television application.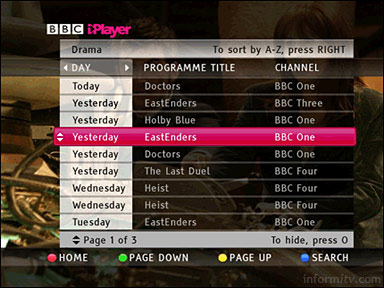 "We're delighted to be the first TV platform in the UK to offer our customers BBC iPlayer as part of our on-demand service," said Malcolm Wall, who is is responsible for content at Virgin Media. "The enormous success of iPlayer online has demonstrated the desire TV viewers have for viewing quality programmes at a time that suits them, and now it's available from the comfort of the living room."
Ashley Highfield, the director of future media and technology at the BBC, recently announced as the future chief executive of Kangaroo, the joint video-on-demand venture between BBC Worldwide, ITV and Channel 4, welcomed the development.
"We have always envisaged BBC iPlayer on a TV platform and in the living room and are delighted that by working with Virgin Media, this ambition has today been realized," he said. "It also further underlines our commitment to making BBC iPlayer a multiplatform offering that appeals to a wide range of audiences."
The BBC iPlayer is now used by over a million people a week online, accessing either streams or downloads over the internet.
The iPlayer on Virgin Media is different in design, using the video-on-demand capabilities of the cable platform to deliver television quality picture.
"Getting the iPlayer into the living room is a big deal for me," wrote Rahul Chakkara, the controller of television platforms in the BBC future media and technology division.
"We are now able to offer broadcast-quality on-demand programmes in a navigation constructed for the television audience and which works on the remote control. A couple of clicks, and you get full-screen video at high quality with no buffering."
The navigation is list-based. There is also a search option, allowing users to enter the first few letters of a programme title using the number keys on the remote control.
The video programmes are encoded in MPEG2, delivered using SeaChange video-on-demand servers, accessed through an interactive application based on the Liberate platform, a proprietary form of HTML and JavaScript.
The cable version of the iPlayer will be available to over three million homes in the country. Talks are apparently in progress with other providers to make similar services available on other platforms.