Freesat is a free digital satellite television service now available across the United Kingdom, launched as a not-for-profit joint venture by the BBC and ITV. It offers around 50 television and radio channels, with up to 200 expected to be available by the end of the year. The BBC HD high-definition channel is available at launch. ITV HD will be offered as a red button service exclusively on Freesat.
"Today is a landmark day for digital TV in the UK — the launch of a new digital satellite service which brings free HD programmes to everyone," said Emma Scott, the managing director of Freesat and former launch director of Freeview. "With more than 9.6 million HD-ready televisions already sold in the UK, but only a tiny fraction of those who own them currently able to receive HD programmes, there's a big opportunity for Freesat to lead the way in introducing the UK to high definition viewing."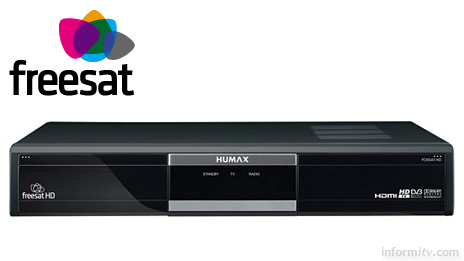 Reaching 98% of households in the United Kingdom, Freesat will provide high quality digital coverage, without subscription or contract, simply a one-off payment for the receiver.
The initial channel line-up includes BBC One, BBC Two, BBC Three and BBC Four, BBC News, CBBC, CBeebies and BBC HD; ITV1, ITV2, ITV3 and ITV4 and CITV, with ITV HD launching soon; Channel 4, E4, More4 and Film4, among others. Notably absent is Five, the other main terrestrial television network, which may join the platform in the future. Other channels available include Al Jazeera and EuroNews as well as the national radio networks from the BBC.
"With the launch of Freesat, all the BBC's digital channels, including BBC HD, will now be available to all licence fee payers wherever they live and however they choose to access them," said Mark Thompson, the director general of the BBC.
The BBC HD channel, which currently broadcasts for about four hours a day, will include coverage of Wimbledon, the Euro 2008 football championship and the Olympics.
Michael Grade, the executive chairman of ITV plc, former chairman of the BBC, described the launch of Freesat as "the final piece in the digital jigsaw" ensuring all viewers in the UK have access to free-to-air digital and high-definition television.
ITV will soon launch a high-definition channel, which will be available exclusively through Freesat as a red button service. When an HD prompt appears on screen viewers will be able to select the high-definition channel by pressing the red button on their remote control.
ITV HD will include football coverage, including the FA Cup, England internationals and UEFA Champions League from next season.
Offering a high-definition channel as a red button service is an interesting option, effectively providing an occasional channel when programming is available.
It is currently not clear whether the ITV HD service will be accessible to Sky satellite receivers. "It would be a strange decision and disappointing for viewers if ITV chooses not to make its service available to 450,000 HD-enabled households," said a Sky representative.
The Channel 4 HD service will not initially be available on Freesat as a result of its current agreement with Sky, although Channel 4, More 4 and E4 are now available without encryption.
Freesat set-top boxes will be available from Bush, Goodmans, Grundig and Humax through leading retailers. An integrated digital television will be available from Panasonic in June, followed by digital television recorders from Alba and Humax later in the summer.