Set-top box software company Osmosys has launched an advanced graphics library that brings interactive television interfaces closer to the world of broadcast graphics. The system can be used with any middleware, even in native embedded applications. STMicroelectronics has announced that it will deploy the technology on current and future chipsets.
Osmosys EGG, or Enhanced Graphics Engine, allows designers and developers to create interfaces that can combine graphics with fluid motion on platforms that were previously limited to relatively primitive display capabilities.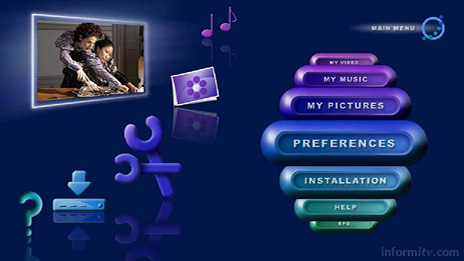 Although Osmosys is best known for its MHP and OCAP middleware, the EGG library is middleware independent and could be ported to other proprietary software systems.
Osmosys has always espoused open standards, so could be accused of creating its own proprietary graphics application programming interface. However, many parties could benefit from its broader adoption.
The graphics library revolutionises the display capabilities of interactive interfaces, providing a 3D co-ordinate space that enables high-performance animation, complementing the latest high-resolution displays.
Designed to run on the current generation set-top box chip sets, it leaves digital signal processors free to handle video decompression. It will enable user interfaces that are more comparable to those on personal computers or games consoles.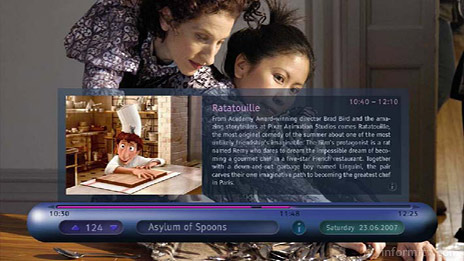 "So many advances have been made in the digital TV market, yet the appearance of user interfaces has seemingly stood still. EGG changes that and we are proud that we have developed such an innovative accelerated graphics API for today's STBs," said David McElhatten, the managing director of Osmosys. "We feel that EGG finally brings the look and feel of interactive digital TV into the 21st century."
Osmosys says that it will enable operators to take the design of electronic programme guides and video-on-demand systems to new levels. Other applications include slideshows and screensavers. It will also enable more advanced games and interactive advertising applications.
With many interactive television interfaces and menu systems now looking rather dated, developments such as this will radically enhance the user experience.
The demonstration seen by informitv showed the high level of graphics performance available on a current generation set-top box. Many of the visual effects were achieved through devices designed to give the impression of 3D graphics using what might more accurately be described as 2.5D, that is to say 2D with added depth. Nevertheless, they were impressive, and delivered using only a few lines of code.
In the hands of skilled designers and developers, some very slick and sophisticated user interfaces could be relatively easily achieved.
Osmosys is part of the ADB Group, which produces a range of versatile and highly-specified set-top boxes. EGG is now available bundled with all Osmosys middleware products and all Osmosys applications are being upgraded to support the new graphics environment.
A software development kit will allow third parties to create their own EGG applications and a compatible software development set-top box is also available.
STMicroelectronics has announced plans to deploy the EGG technology on its high-definition capable family of video decoder chips and on future chipsets intended for set-top boxes, televisions and high-definition DVD players.
On a current STi7100 platform, it is possible to draw full-screen 3D effects at 25-30 frames per second at 1280×720 resolution.
"Our video-decoder platforms are among the most deployed throughout the world and we are constantly looking to strengthen our lead in a very competitive market. EGG should strengthen our platforms, ensuring that our technology is now an even more attractive proposition," said Philippe Lambinet, of STMicroelectronics. "We are very excited about the opportunities EGG will bring to the interactive digital TV market."