OpenTV has played a key role in the development of interactive television. Chief executive Alan Guggenheim recently resigned for 'personal reasons' less than a year after replacing Jim Chiddix following the acquisition of the company by the Kudelski Group. He is in turn replaced by Ben Bennett in the new role of chief operating officer and acting chief executive. Ben spoke to informitv about the company strategy for interactive middleware, advanced advertising and participation television.
"Middleware is our core business," stressed the former managing director for European operations and general manager of the worldwide professional services, consulting and support group at OpenTV. "We believe that there's a massive opportunity. Out of a billion TVs, only 15% are digital."
OpenTV maintains an important position in many digital set-top boxes, but the middleware market is increasingly competitive. As a result, OpenTV increasingly appears to be concentrating on applications of its set-top box software.
At the IBC show in Amsterdam, OpenTV was once again demonstrating its Mondrian interface, which uses mosaics and marginal menus to create a more compelling user experience than traditional grid-based electronic programme guides.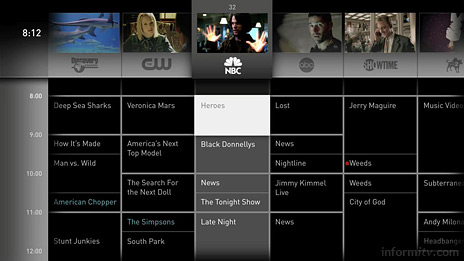 This time the slick Flash-based prototype has been partially implemented in the latest version of OpenTV set-top box software. "What really sells the middleware is a consumer experience that you can see and that your mother can understand," he said. "That's why this evolutionary step to a real set-top box is so important. Core 3, which is the next generation of the middleware, needs to be offering a full user interface to third parties, but we also want to be able to offer our customers and prospective customers this sort of experience. I say we have to stay two years ahead of our customers."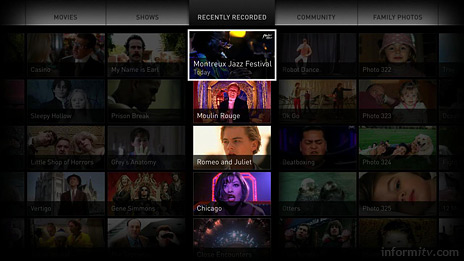 "Customers deal with the day to day realities, making sure that they retain subscribers, reduce churn and offer a really competitive service, but in engaging OpenTV they're not just buying today's technology, they're also looking for a road map that will help them compete against IPTV, for example."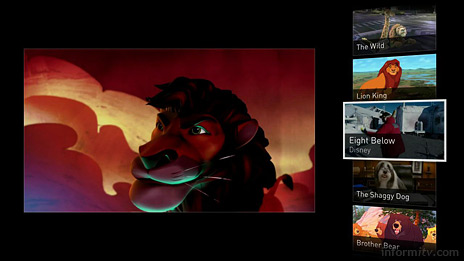 With existing and prospective customers now aiming to provide high-definition digital video recorders, there is an opportunity to migrate to more sophisticated user interfaces, taking advantage of the increasingly capable chipsets in modern set-top boxes.
"Every customer that we show is very positive, particularly now it is on the middleware and they can see progress towards the next generation, and chipset vendors have really embraced this. They can see where TV is going. They like to see a company that's thinking a couple of years out."
The set-top box component is only part of the problem. "What you see on the set-top is only a quarter of the challenge. The real challenge is on the head-end. A couple of operators are willing to work with us to make that a reality. They want to be able to offer great user interfaces. They've got high end users with HD and HD DVR, and they want to retain those high-end users."
MultiChoice South Africa recently selected OpenTV as a partner in the roll-out of advanced services on their satellite platform, based on high-definition capable digital video recorders.
However, OpenTV concedes that there will still be a market for more modest devices. "There is also still a place for low-end zapper boxes, for instance in developing countries. I don't think that will ever change."
The interfaces that OpenTV has been demonstrating may work best in a connected network, favouring cable operators. "I think one of the great frustrations if you ask a lot of cable operators is that they haven't made great use from an interactive point of view of their back channel. So it's up to us to help them solve that problem," added the OpenTV executive. "If you've got a fast broadband connection as opposed to dial-up it helps, no doubt about it, but satellite operators are not going to sit still. They're going to have IP back channels."
IPTV
OpenTV has hitherto failed to make much of an impression on the emerging IPTV market, with Microsoft so far attracting the top tier telecommunications companies.
"IPTV will happen. Like everything in this industry there's the initial hype, everybody gets excited, like interactive television, and then it builds, and its not as though people got it wrong, they just get the timing wrong. They always over hype it, and IPTV is absolutely no different. There are a lot of technical issues still outstanding on IPTV. Some of the vendors that went in early may be suffering a bit. From an OpenTV perspective, we take the stance that our software is IPTV enabled."
A year ago OpenTV announced an initiative with Innovative Systems to integrate its middleware in Amino set-top boxes, aiming mainly at tier two and three telcos in the United States. "There are a couple of tier ones," he said, "but it's pretty much wrapped up by Microsoft. There was a very large European telco that we were talking to and they said they'd made a mistake, but it's more than my job's worth to reverse this decision at this point."
Meanwhile, OpenTV is looking at the hybrid market, combining digital cable or satellite with services delivered over internet protocol. "A lot of existing customers are moving to the latest version of OpenTV middleware. DigiTurk is a good example. With HD DVR they're now migrating. It also gives them an IP enabled middleware as well."
So has OpenTV missed the boat with telco television initiatives? Not according to Ben. "You can't be successful in every market. You just have to focus and be the best at what you do. We have 58% market share worldwide. We've stuck by our guns in our successful markets. It's not that we have forgotten IPTV. Sometimes it's good to look at a market and say let's not jump on the hype bandwagon. Let the battlefield clear and come in with a proven solution. That's the strategy, along with the hybrid approach. Personally I think that's the right approach."
Advertising
OpenTV is also engaging in advanced advertising. "The advanced advertising is absolutely a key focus and will continue to be. The really interesting stuff is not just the advertising, not just traffic and billing but providing an advanced addressable adverting solution, multiplatform."
Participation
Another sector is participation television, with the OpenTV Participate product. "We've taken some rock solid technology used for gambling, which is very transactional, real-time based software, and applied it to the broadcaster communities. Broadcasters want to be able to engage their viewers more. Not just in real time but also collect information about how they interact with their programming."
Participation television has had a bad press in Britain recently, as a result of a number of problems with premium rate phone competitions and votes. So does this represent a threat or an opportunity for the OpenTV Participate proposition? "It's definitely an opportunity," in Ben's view. "The problem those guys got into is that they did not have the systems at the back end to support that whole end to end transaction. When they were audited it was pretty obvious that they didn't have those back ends and that's what got them into trouble."
"They weren't connected," he suggested. "OpenTV Participate integrates with everything from synchronous video interaction right the way through to the fulfilment of a prize. The operator can then show an audit trail."
With just 15% of televisions being digital, participation television using the phone handset rather than the remote control offers a broader reach. "It opens up opportunities for the one billion and not the 150 million. It comes back to our company strategy of expanding away from the consumer electronics approach and engaging the entire television food chain, to broadcasters, mobile operators, telecommunication companies, and selling to that group to expand our markets, but then also going cross-platform, so not just the set-top."