Inuk Networks has launched what it describes as the world's first PC-based virtual set-top box. Known as igloo, it delivers a true television experience on a personal computer using a standards-based approach, with full support for all the usual set-top box features.
Inuk Networks is the company behind the Freewire branded broadband platform for the delivery of video, voice and data services to consumers. With an initial focus on the student market in the United Kingdom, they are using the Janet joint academic network to deliver multicast television services to student campuses. The Freewire platform can also be customised and delivered as a wholesale solution to broadband service providers.
Inuk is the singular term for Inuit, the indigenous people of Alaska, Greenland and the northern Canadian territories. The Inuk Networks software set-top box is known as igloo.
The Inuk igloo platform is designed to emulate the operation and user interface of a standard television set-top-box on a Microsoft Windows or Apple Mac personal computer. All on-screen information and controls are displayed as a graphical overlay on top of the video image, enabling operators to offer their subscribers exactly the same service and user experience as they would get with a television but on their computer.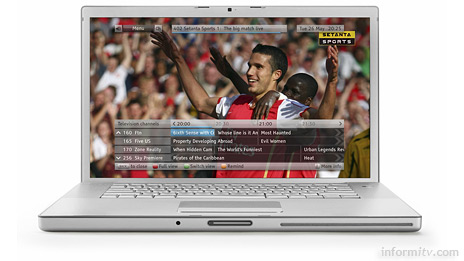 The igloo application supports both MPEG-2 and MPEG-4 encoded video, both in a window and full screen. It supports a USB remote control and features a full electronic programme guide and enables digital video recorder features to store material securely on the existing hard drive of a personal computer.
"To date, the middleware for delivering IPTV services to the PC platform has been severely restricted, having to rely on multiple client software products, embedding a video player into web pages or delivering proprietary solutions," said Marcus Liassides, the chief executive of Inuk Networks.
As with physical set-top boxes, igloo supports content encryption systems such as the Widevine Cypher virtual smartcard.
"We're delighted to work with Inuk Networks to enable the acquisition of premium content and uniquely secure its delivery to PC and Mac platforms," said Brian Baker, the chief executive of Widevine Technologies. "Together Widevine and Inuk — with igloo — are bringing a viable television experience to the PC for the first time."
Inuk Networks has also worked with Industria to integrate their Zignal Entertainment Delivery Platform.
"Inuk Networks has broken new ground with its innovative Freewire IPTV service," said Rupert Graves of Industria. "The development of the igloo virtual set-top box is further proof of the company's leadership in provisioning next generation TV. We believe that new and existing IPTV operators will find a PC platform an exciting addition to their customer proposition."
The igloo platform supports features such as widescreen aspect ratio switching and subtitles, and can work with both multicast broadband services and optionally with a broadcast terrestrial tuner.
www.inuknetworks.com
www.freewiretv.com
www.widevine.com
www.industria.com