Viasat will use the Sling Media Slingbox to deliver Viasat Everywhere as an extension to its satellite service in Scandanavia. This will allow users to watch and control their home television programming on any internet-connected computer.
Slingbox is a small hardware device that allows consumers to access their living room television experience at any time, from any location, using a variety of different displays, including desktop and laptop computers and smartphones.
Marketed under the name Viasat Everywhere, Slingbox will initially be available in Sweden, followed by Denmark and Norway. It will be sold through retail stores as well as directly by Viasat for a price equivalent to just under £200.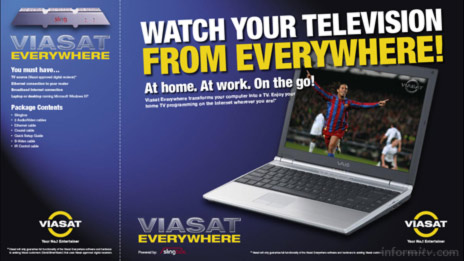 The Viasat Everywhere version of Slingbox will come with on-screen controls that mimic the remote control of the Viasat service, reinforcing the Viasat brand.
"Last year we introduced our PVR, Viasat+, which has revolutionised the viewing for everyone who has acquired it. Now we are adding yet another service that puts Viasat at the forefront of the technical evolution." said Ulrik Bengtsson, chief executive of Viasat Sweden.
Viasat, a Modern Times Group company, is the largest free and pay-television operator in Scandanavia and the Baltics. It is the largest shareholder in the main independent television network in Russia and runs multiple channels in many other European countries. The Viasat digital satellite service has 0.8 million subscribers in the Nordic and Baltic region.
Scandanavia has a high penetration of broadband users, with relatively high access speeds, making it a good market for Sling.
Blake Krikorian, the co-founder and chief executive of Sling Media, said the Slingbox "will provide customers with a powerful new way to watch and control their Viasat TV experience on a wide variety of internet-enabled devices whether it's around the home, at the office or on holiday."
Already available in the United States, Canada, the United Kingdom, Taiwan and Japan, the Slingbox has been successful as a retail product since its launch, although it has been viewed with suspicion by some rights holders.
The adoption by a platform operator is an interesting development, demonstrating the opportunity to provide such a product as an extension of a pay-television platform. It will no doubt be watched with interest by other service providers.
The use of a device in the home to effectively re-route services over the internet may arguably be seen as a form of fair use, like home video recording. Ultimately, once the precedent is established, it seems inevitable that operators will offer similar facilities as a seamless extension of their service.