DIRECTV and the USA Network will provide the first interactive TV coverage of the 2006 US Open tennis tournament. It will be similar to the groundbreaking interactive Wimbledon service developed by the BBC in the UK, which has proved to be one of the most appealing and popular applications of interactive television to date.
Available free to DIRECTV satellite television customers across the United States, the interactive service will expand the USA Network national coverage of the tennis tournament.
It will provide up to 300 hours of tennis coverage, with more than 100 additional matches, with access to early-round stages, statistics and the ability to select from up to five courts from a multiscreen US Open Mix channel.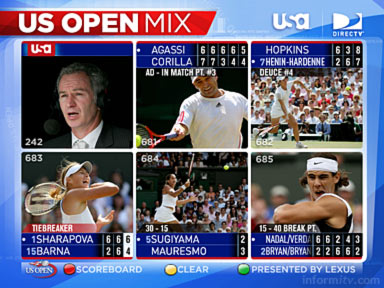 Eric Shanks of DIRECTV called it "the biggest advance for tennis fans since colour television".
It follows the highly successful interactive Wimbledon service which premiered on the BBC in the UK in 2001 and remains one of the most popular and eagerly anticipated interactive television services, now available across satellite, terrestrial and cable platforms.
DIRECTV viewers will be able to enjoy five channels of expanded coverage, covering all the action on the featured courts during the first five days of the US Open.
Subscribers with interactive receivers will also have access to an overlay screen providing results and details of forthcoming matches.
"We're excited by the notion of combining USA Network's national coverage of the US Open with DIRECTV's interactive television innovations to create the ultimate US Open experience for viewers," said Bridget Baker, executive vice president of NBC Universal Cable, which operates the USA Network.
"Each year, dramatic storylines unfold during early round matches from many places at the USTA Billie Jean King National Tennis Center, so it makes perfect sense to provide tennis fans access to as much of this drama as possible, as it occurs."
DIRECTV has previously offered similar interactive features with its NFL Sunday Ticket and NCAA March Madness subscription sports packages, but the tennis coverage will offer an opportunity to reach a broader audience.