Satellite broadcaster Sky has launched a new remote control specifically designed to assist older customers, people with visual impairments and those with limited dexterity. It emphasises the importance of accessibility in the design of television related products and services.
Amid all the excitement about converging and interactive digital media, it should be remembered that a large proportion of the population may actually have difficulty with something as basic as using a remote control. Over ten million adults in the UK have difficulties in lifting and carrying objects due to reduced mobility and manual dexterity.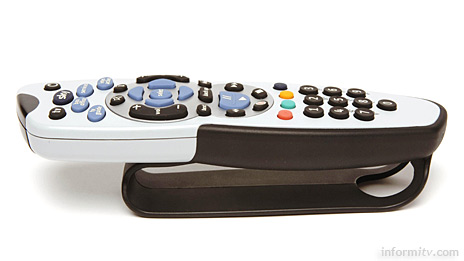 The standard Sky remote is well regarded as one of the best in the industry and similar devices are used by other News Corporation controlled satellite platforms.
The new Easy Grip remote is similar to the usual Sky+ remote control but comes in two styles with either a textured easy grip or a hand strap to assist those with limited dexterity. Both versions have larger numerals, text and graphics with raised contoured buttons and increased colour contrast.
Customers wishing to purchase the Sky Easy Grip remote should contact Sky customer services.
The development of the inclusive remote control was shaped by research conducted by Sky in association with disability groups and Age Concern. It is designed to meet the needs of customers with both minor impediments and a range of disabilities including motor control and cognitive impairment.
Kay Allen, disability affairs manager at Sky, explained: "We know that some viewers have problems operating their TV remote control so our Easy Grip remote is specially designed to make things easier for them."
The new remote was welcomed by Lesley Anne Alexander, the chief executive at the Royal National Institute of the Blind. "Sky was the first broadcaster to transmit audio description so that blind and partially sighted viewers can enjoy television programmes, and now again Sky is the first to invest in making an inclusive remote control that is suitable for older and disabled people."
The remote control is evidently fundamental to interactive television services, so it is all the more remarkable that many are poorly designed and often confusing for the majority of customers.
Accessibility is a key factor in the design of interactive services, as well as often being a legal requirement, and informitv can provide further guidance on the issues involved.