Veoh Networks has released further details of what is claimed to be the first internet television peercasting network, now in beta testing, which could transform the online distribution of video material.
The Veoh software, available to download in beta form for the PC or Mac, provides a virtual video network that is able to distribute full-screen, television quality video to a global audience of users with broadband internet connections. There will be no charge for publishing material, and no charge for downloading, although the ability to charge for video will be a "key feature" of the final release.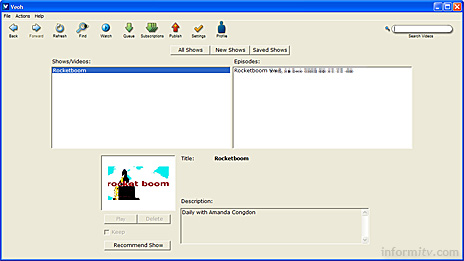 "We are excited to launch this first beta of our product, and start to get consumer and publisher feedback," said Dmitry Shapiro, the founder and chief executive of the start-up company which recently received a multi-million dollar round of investment.
"Veoh Networks aims to democratise television broadcasting and consumption, providing content producers of all types with an open video publishing system, and providing consumers with the most comprehensive choice in programming," he told informitv.
"For Veoh, we decided to build a proprietary P2P protocol we call VeohNet," exlained Dmitry, a specialist in peer-to-peer networking. "It is similar to swarm protocols such as BitTorrent, but is better at penetrating firewalls, and is by design built to discourage piracy and facilitate legitimate high-quality video distribution. BitTorrent used to be the best protocol out there for delivering large video files, but VeohNet is better!"
"We believe that the world is at a pivot point where we are able to combine the reach, flexibility and ubiquity of the internet with the rich experience of broadcast quality full-screen video," Dmitry continued. "Five years from now we will look at today's measly 1,000 channel digital cable offerings and snicker, wondering how we ever found anything relevant to us on TV."
The Veoh network uses an advanced peer-to-peer transfer network to share video amongst the Veoh users. This allows the network to 'spread the load' between a massive number of client computers. The peercasting system is server-free. Publishers no longer have to host any portion of their content, including seeds or other references.
Veoh aims to develop a community of publishers and consumers, with content approved by editors. The system will have integration with RSS syndication and Google Video, enabling content providers to publish to multiple video systems.
A number of other initiatives are also aiming to use peer-to-peer approaches to video distribution. The BBC is about to enter a limited public trial of its interactive media player, using technology from Kontiki. A similar system will be used by UK satellite broadcaster BSkyB. A number of start-ups, such as Brightcove, are also planning to provide an internet video publishing platform.
Beta test
The beta client installed without any issues. It is available for Windows XP or Mac OSX. Veoh provides an executable application that includes a web browser interface. Overall it is still rather rough around the edges, as one might expect from an early beta release.
Although not open source, the Veoh project is open in its approach. It makes use of the VLC media player, part of the open source VideoLAN project. This provides watchable full-screen video from a 320×240 MPEG-4 file at 700Kbps.
The design of the application is fairly basic, at least in the beta version. The VLC player can be customised with a variety of downloadable skins, to give it a distinct look and feel, ranging from a Windows media player to a Mac-like interface.
For the beta trial, the content available is very limited, but users can contribute their own material, rights permitting. The ability of Veoh to manage this process is likely to represent a considerable challenge.
With increasing penetration of broadband connections, and rising access speeds, informitv predicts that video distribution over the internet will become phenomenally popular. Initially this will tend to be limited to playback on personal computers, but it will become increasingly available on a variety of consumer devices.