A report by a campaign group advocating for those aged over 60 suggests there is strong support for protecting broadcast television and radio services until well beyond 2040. Silver Voices is calling on the government in the United Kingdom to protect broadcast services beyond the current commitment of the 2030s. Otherwise it says large numbers of people will be left behind.

The report, Safeguarding Universality: The Future of Broadcast TV and Radio, says that over 80% of respondents to its nationally representative survey of 4,000 respondents believe that broadcast television should be protected well beyond 2040.
Almost three-quarters of respondents believe that the partial or total removal of broadcast services in the future risks leaving behind significant portions of the population.
Many participants expressed the view that there is a false assumption that broadcast and online services are in direct competition with each other and that only one can emerge as the winner.
Over three quarters of respondents agreed that broadcast television and online services should continue to operate alongside one another.
More than six out of ten respondents strongly opposed the suggestion by the director general of the BBC that a switch-off of broadcast TV and radio will and should happen over time.
Without a commitment to broadcast services, nearly seven out of ten said that they would be unwilling to pay the current level of the licence fee.
For older viewers aged 65 to 74, easier channel navigation was a particularly prominent feature for their preferences for watching broadcast TV over online services, with almost half raising the issue.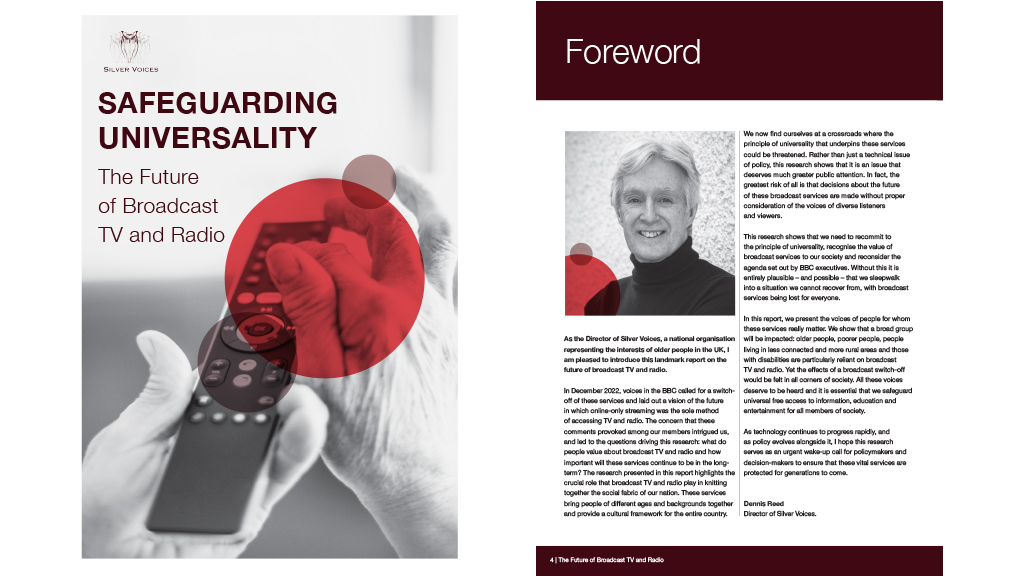 The report includes five recommendations to secure these services for generations to come.
It calls for a clear commitment from the government to the long-term protection of broadcast services, including a date well beyond current commitments.
Television and radio broadcasting, and the broad range of services delivered, should protected for the long-term within any ongoing and future legislation.
Spectrum used by broadcast television should be protected at the World Radiocommunication Conference 2023 and at future international spectrum conferences.
There should be ongoing requirements for public service broadcasters to continue to support universal broadcast services.
The voices of the listeners and viewers, and in particular those groups most heavily reliant on broadcast services, should be put at the centre of the debate and any decision-making by government or Ofcom, the sector regulator.
Commenting on what he described as the potential switch-off of broadcast television and radio, Dennis Reed, the director of Silver Voices said: "The removal of broadcast services risks isolating our members further and no one should be left behind, ignored, or neglected."
"The government must step up and take action — including by implementing the recommendations we have set out today — to protect the future of these vital services that are not only an essential national asset but something millions of older and vulnerable people across the country rely on day in, day out.
Elizabeth Anderson, the chief executive of the Digital Poverty Alliance, commented: "For the millions living in digital poverty in the UK, TV and radio broadcast services are vital sources of news, public education and entertainment. The universality of access to broadcast services must be paramount. Whilst many services have seen a rush to digital only delivery, applying this to TV and radio when so many lack the devices, skills and connectivity packages to access internet-based media would simply push millions of people deeper into financial and social exclusion."
Silver Voices is part of the Broadcast 2040+ campaign, that includes the transmission network provider Arqiva, calling for a public commitment to safeguarding broadcast television and radio to 2040 and beyond.