Apple TV+ will launch in over 100 markets at $4.99 a month, undercutting rival subscription video services, and will be free for a year with any iPhone, iPad, iPod Touch, Mac or Apple TV purchase. It will offer a limited range of original productions that appear to aim for an upmarket audience. There are approaching 1.5 billion active installed Apple devices worldwide, including over 900 million iPhones. If Apple converts even a fraction of them to become loyal subscribers, it will become a major media player.

Apple is reported to have spent over $6 billion on original productions for its video service, which was originally allocated a budget of $1 billion. Some shows are reported to have budgets of $15 million per episode. They include The Morning Show, starring Jennifer Aniston and Reese Witherspoon, which explores the ego, ambition and the misguided search for power in the world of television.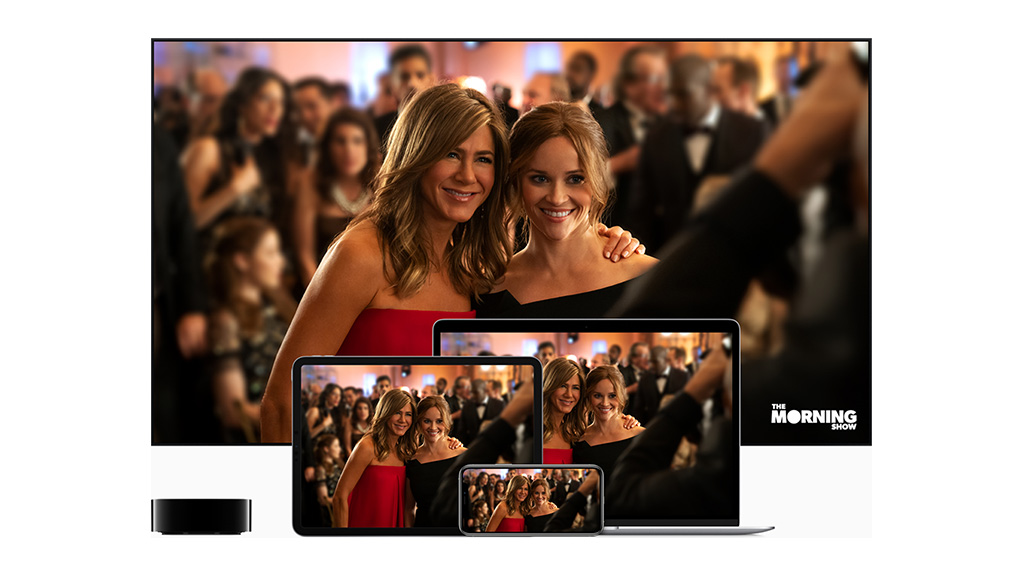 "Apple TV+ is an unprecedented global video service with an all-original slate," said Jamie Erlicht, head of worldwide video at Apple. "We look forward to giving audiences everywhere the opportunity to enjoy these compelling stories within a rich, personalized experience on all the screens they love."
That means Apple products initially, plus some Samsung smart televisions, and in the future LG, Sony, Vizio, Roku and Amazon Fire TV platforms. Customers will also be able to sign up and view Apple TV+ originals on the web using Safari, Chrome or Firefox browsers.
At launch, most Apple TV+ series will premiere with three episodes, with one new episode to roll out each week, while full seasons of some series will be available all at once.
Original productions will be available subtitled or dubbed in nearly 40 languages, including closed caption subtitles for the deaf and hard-of-hearing. Apple TV+ series and movies will also be available with audio descriptions in eight languages.
The Apple TV+ subscription service will be available free for a year to purchasers of certain Apple products, including both new and refurbished models, irrespective of sales channel.
Up to six family members can share one Apple TV+ subscription and watch using their own Apple ID and password.
Apple TV+ will be £4.99 a month in the United Kingdom, as Apple appears to assume parity between the dollar, euro and pound.
The Apple service will launch just days before Disney debuts its own direct to consumer service, priced at $6.99 a month.
Without an extensive programme catalogue, Apple is initially positioning its video offering as an extension to its product ecosystem, while establishing perceived value at an entry price point that could rise over time.
Apple may have an addressable market of 1.5 billion devices, although Apple families probably have more than one product.
The company no longer reports unit sales by product as they no longer appear to be growing but nevertheless in 2018 Apple sold more than 217 million iPhones.
For comparison, Netflix has 151.56 million paying subscribers worldwide.
In the three months to the end of June 2019, Netflix reported revenues of $4.92 billion, producing a net income of $270 million, although it has total liabilities of £24.07 billion.
Apple posted revenues of $53.8 billion in the same quarter, producing a net income of $10.04 billion.
Apple is not attempting to compete directly with Netflix, or Disney for that matter, but it is aiming to grow revenues from services, which currently account for a fifth of its revenues.