The BBC and ITV have confirmed plans for a strategic partnership to bring their BritBox online video service to viewers in the United Kingdom. BritBox will provide British 'box sets' and original series online, claiming the biggest collection of British programming available on any online offering, together with commissions for British production companies specifically for the service. The aim is to launch the service in the second half of 2019 at a 'competitive' price point. BritBox currently has half a million subscribers in North America.

The BBC and ITV have agreed a joint vision for the BritBox service in the United Kingdom and are now working on a formal legal agreement. The BBC and ITV anticipate that other partners will be added to BritBox and both will speak to regulators and the wider industry about their proposals.
BritBox is available in North America, where it has over half a million subscribers, paying $6.99 a month, in a market of around 135 million television homes.
The broadcasters say there is a real appetite for a new British streaming service, in addition to their current subscriptions. Research commissioned by ITV suggests that 43% of all online homes would be interested in subscribing to a new subscription video service which features British content. This increases to over 50% in homes with a Netflix subscription.
12.3 million households in the United Kingdom have at least one subscription video service, according to BARB research, with 4.3 million homes now having more than one subscription. 10.3 million have Netflix, paying a minimum of £5.99 a month, which works out at a total of around £0.75 billion a year.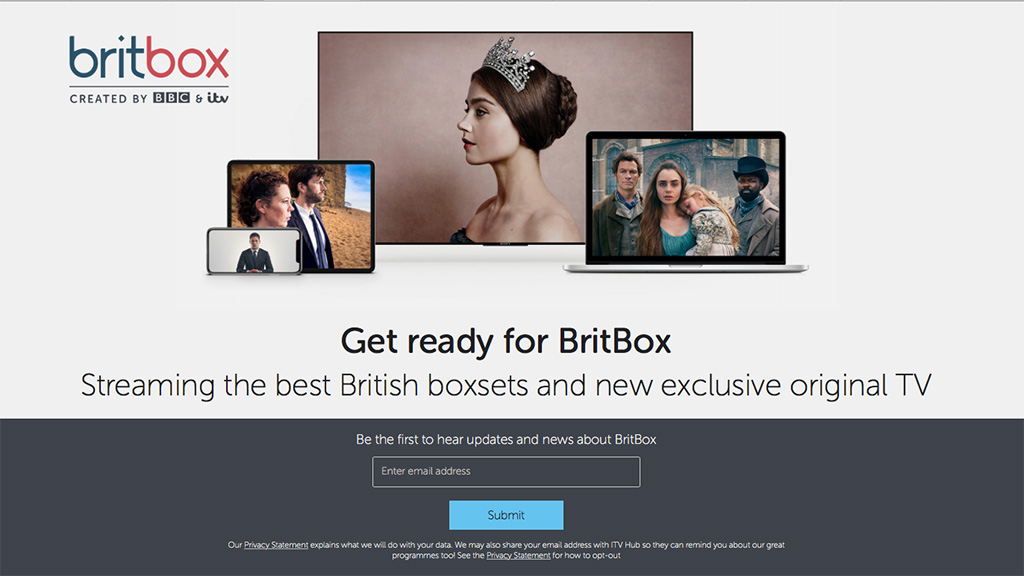 Tony Hall, the director general of the BBC, said: "I am delighted that the BBC and ITV are working together on something truly special — BritBox. A new streaming service delivering the best home-grown content to the public who love it best. The service will have everything from old favourites to recent shows and brand new commissions. It's an exciting time for the viewing public."
What is not clear is how the Britbox service will relate to the BBC iPlayer, which received an average of 9.6 million requests a day in December 2018.
Notably, the announcement for BritBox claimed that it will have "The biggest collection of British content available on any streaming service". That presumably includes the BBC iPlayer, which was originally launched as an online 'catch-up' service but has expanded to include live programming and archive programming.
In November, the communications regulator Ofcom directed the BBC to conduct a public interest test by the end of the year on its plans for the BBC iPlayer, including the addition of a substantial number of 'box sets' or entire series available on demand. The consultation was held between 7 January and 15 February 2019.
In its proposals, the BBC considered a longer initial period of availability for all programmes of at least 12 months, complete series box sets for selected titles made up of new returning series and their previous series, together with more archive content.
So it could be convenient for the BBC to hold back box set programming for the BritBox joint venture, assuming that it meets regulatory approval.
Ofcom has previously signalled that it is open to the idea of such a joint venture, and would no doubt be pleased if other broadcasters could participate.
Ten years previously, in February 2009, the Competition Commission formally blocked an initiative by a consortium of broadcasters to create a joint venture platform, codenamed Project Kangaroo, on the grounds that it would restrict competition.
That was before Netflix launched its online service in the United Kingdom, in March 2012.
Broadcasters, including the BBC and ITV, were initially happy to licence programming for distribution on services like Netflix and Amazon Prime but online video subscription services have since emerged as strong competitors.
While ITV already has a nascent online video subscription service it could mark the thin edge of the wedge for the BBC in embracing a subscription model. The risk, of which the BBC will be acutely aware, is that it erodes the justification for the compulsory television licence. At stake is £3.83 billion in annual television licence income.
For ITV it is an easier commercial proposition, which is part of a wider strategy to reduce reliance on advertising revenue, with a vision to be "More than TV".
Announcing full year results for ITV, Carolyn McCall, the chief executive, said: "BritBox will be the home for the best of British creativity – celebrating the best of the past, the best of today and investing in new British originated content in the future."
In its annual results, ITV said its existing subscription propositions including ITV Hub+ in the UK, BritBox US in the US and Canada, and Cirkus in the Nordics, Germany, Austria and Switzerland, demonstrate our ability and ambition to compete in this market internationally.
ITV Hub+ offers an ad-free subscription version of the ITV Hub with the option to download programmes. While it remains relatively small, the number of subscribers has more than tripled in 2018 to 265,000.
The free ITV Hub has 27.6 million registered users, up from 21.3 million a year previously and 16.9 million in 2016. ITV claims that 88% of 16-24 year olds in the United Kingdom are registered, or 79% of those aged 16-34.
Long-form video requests were up 23% and online viewing, which measures how long viewers are spending online, was up 32% to 446 million hours, driven by viewing on mobile devices, connected TV and streaming media players.
That sounds impressive, although it works out at an average of 16 hours per registered viewer, per year, or less than 20 minutes a week, compared to a total of 17.1 billion hours of ITV viewing over the year.
The ITV Hub is available on 28 platforms and is pre-installed on over 90% of all connected televisions sold in the United Kingdom.
That said, the highest rating programme on ITV in the week of 2019 was Coronation Street, with a total 28 day audience of 8.22 million as measured by BARB, of which 8.07 million watched on television, and only 154,624 watched on a computer, tablet, or phone.
Direct to consumer revenue for ITV, including subscription video, competitions, live and pay per view events grew 25% in 2018 from £65 to $81 million, boosted by daytime competitions, an increase in ITV Hub+ subscriptions, and pay per view boxing events on ITV Box Office.
That represents less than 4% of total annual broadcast and online revenue for ITV of £2,096 million, of which £1,795 was from advertising. Total ITV revenue, including its production studios business came to £3,766, of which direct to consumer made up just over 2%.
ITV plans to invest up to £25 million in BritBox in 2019, rising to around £40 million in 2020, and reducing after that.
The BBC has not announced what it will commit to the initiative, although one might assume it to be comparable.