The BBC is to show World Cup football matches in Ultra HD but only online and to a limited number of viewers. The rest of the country will have to make do with high-definition coverage, while other broadcasters around the world advance Ultra HD broadcast services.

The World Cup in Russia will be covered in Ultra HD, which has four times the resolution of high definition television. It will be offered in high dynamic range, which offers improved representation of high contrast images.
The 29 matches to be shown on BBC One in high definition will also be available online in Ultra HD, using the Hybrid Log-Gamma HDR format that was co-developed by the BBC.
The BBC says that viewers will need a 40 Megabits per second internet connection to receive the online Ultra HD service, which will be available through the BBC iPlayer app.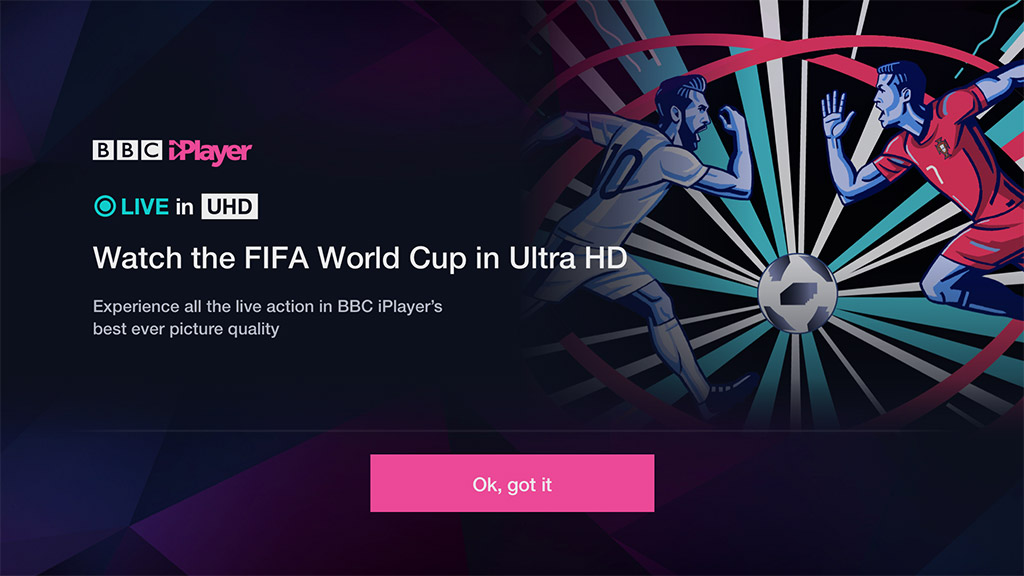 The national communications regulator Ofcom reports that average actual broadband speeds in the United Kingdom are around 46Mbps, or over 70Mbps for those on packages advertised at 30Mbps or higher. For those on ADSL telephone connections the average is under 10Mbps, while for those on cable, the average is 115Mbps.
Put another way, 46% of home broadband connections in the country can expect an average download speed in peak time of less than 30Mbps, while 53% of those in rural areas can expect less than 10Mbps.
So access to a connection able to deliver 40Mbps is hardly universal.
Is there a technology that could deliver such a service to the majority of the country today? Well, there is always satellite, with a theoretical reach of 98% of homes in the country.
Could the BBC deliver an Ultra HD service nationally? Technically it could. Politically it would prefer not to, as the only homes that could currently receive such a signal would be subscribers to the top tier Sky Q satellite service, which is about 2 million homes, not all of which have a UHD compatible display.
That would be wrong, as the BBC is a public service, free at the point of use, apart from the mandatory television licence of just over £150 a year. The internet is obviously free to use, apart from the connection cost of about £360 a year.
At least anyone with a good enough broadband connection will be able to receive the Ultra HD coverage. Actually, they will not. They will be able to access it through the iPlayer as soon as programme coverage begins, but the number of users granted access would be limited on a first-come, first-served basis to "tens of thousands of people".
Of course they will also need a compatible UHD display, which narrows it down a bit. Just over 40% of televisions sold recently support UHD. The installed base across the United Kingdom is still relatively low, maybe 5-6 million, but more than tens of thousands.
Still, at least tens of thousands of people will be able to see those matches in UHD with high dynamic range, with no possibility that anyone who has invested in a new television for the privilege will be disappointed. What could possibly go wrong?
The concern may be that there is limited capacity available to serve more than a certain number of UHD streams, which comes at a cost. There is also the issue of whether the national network infrastructure would be able to cope with unlimited access. It is arguably better to give a better experience to a limited number of viewers.
There is still the question of whether the BBC should be spending money serving a relatively small number of viewers. One might argue that it is entirely within its remit to advance television technology.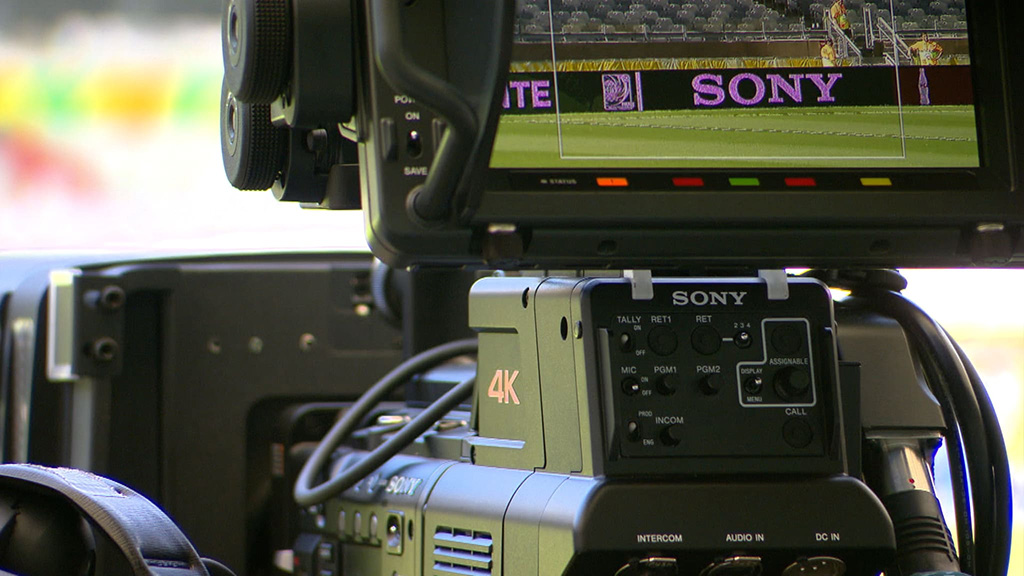 Events like the World Cup and the Olympics are typically used to introduce innovations in television. They also tend to drive the sales of new televisions. This tends to lead to an overall improvement in the television experience over time.
As in previous years, the BBC is sharing coverage of the World Cup with the commercial broadcaster ITV, which has not announced any plans for Ultra HD coverage.
Matthew Postgate, chief technology and product officer for the BBC, said: "From the very first tournament on TV in 1954 and England's finest hour in 1966, to the first colour World Cup in 1970 and then full HD in 2006, the BBC has brought major live broadcasting breakthroughs to UK audiences throughout the history of the World Cup."
With many other broadcasters around the world committing to Ultra HD coverage, the BBC can no longer claim to be leading the way.
According to the international football association FIFA, all 64 matches in the tournament are being covered in Ultra HD with high dynamic range. A total of 37 cameras will cover each match, of which eight will be Ultra HD capable.