Sky gained 38,000 retail customers in the first quarter of 2018, adding 70,000 in the United Kingdom and Ireland, where television customer churn is at its lowest level for six years, but losing 30,000 customers in Germany and Austria. It now has 22.9 million retail customers across Europe.

There are now 2.5 million Sky Q homes, mostly in the United Kingdom and Ireland, including the recent launch in Italy, with the product rolling out to Germany and Austria from May, with over a million Sky+ Pro customers due to receive a software upgrade.
Sky now has 13 million customers in the United Kingdom and Ireland. It does not break out how many subscribe to its television services. It added 70,000 retail customers in the first quarter of 2018, having added 110,000 the previous quarter, and 285,000 over 12 months. Sky reported that customer churn has been reduced for the fifth consecutive quarter.
The company reports that over 3,000 households are moving to Sky Q each day, making it the fastest growing product ever for Sky. It says Sky Q customers on average watch around 50% more in on-demand and download around 40 times a month.
Sky is integrating the Spotify music service on its Sky Q platform and has agreed a deal with Netflix to bundle its full service in a new package later in the year.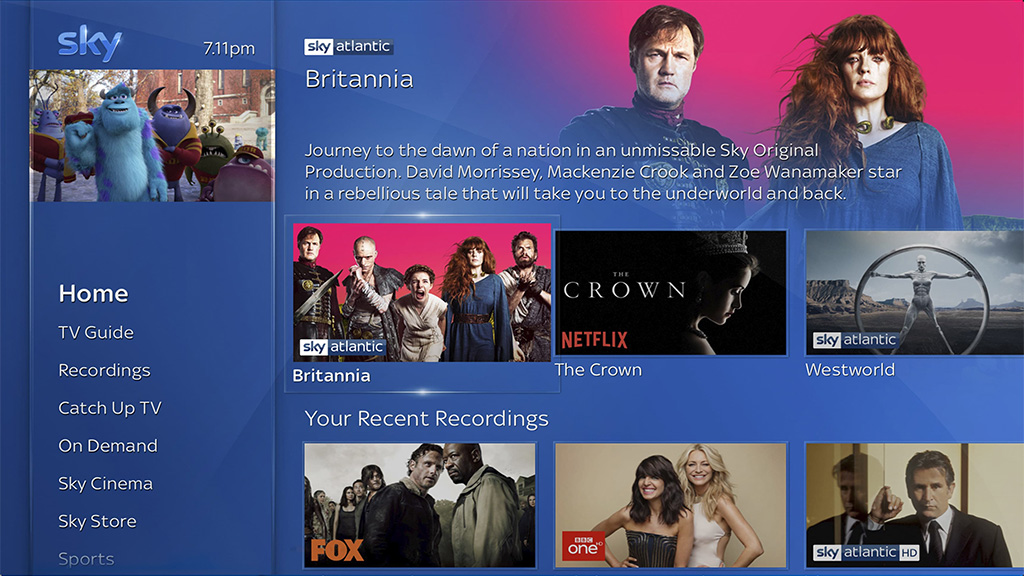 In Italy, Sky has secured an agreement with Mediaset to launch a Sky branded subscription service on terrestrial television. It is also planning to launch a service over fibre in Italy.
Sky added 480,000 customers in the previous 12 months, for a total of 22.9 million.
Jeremy Darroch, the chief executive of the Sky group, commented: "Against the back drop of a challenging consumer environment, this performance reflects the continual improvement in our broad set of products and services and our focus on providing great value every single day — something recognised by customers now taking over 62 million subscription products from us and our services reaching over 120 million people across Europe."
Sky is subject to an offer from 21st Century Fox, which is in turn due to be acquired by Disney. Regulatory approval may hinge on whether an offer to legally separate Sky News, or to sell it to Disney, will be sufficient to address concerns about media plurality. Comcast has meanwhile announced a possible competing offer for Sky.