Amazon has over 100 million paid Prime members worldwide, entitled to receive Amazon Prime Video as part of their membership. That puts it not far behind Netflix, which has almost 120 million paid members. Amazon is meanwhile collaborating with retailer Best Buy to sell televisions incorporating its Fire TV and Echo technology, putting the heat on Roku.

Amazon founder and chief executive officer Jeff Bezos wrote in a letter to shareholders that 13 years after launch, Amazon Prime has past 100 million paid members globally. He said that Amazon shipped more than five billion items with Prime Worldwide. More new members joined Prime than in any previous year, both worldwide and in the United States. He said Prime Video continues to drive Prime member adoption and retention.
The Amazon video service began in September 2006 as Amazon Unbox in the United States, later renamed Amazon Video on Demand and then rebranded as Amazon Instant Video, subsequently simply Amazon Video. Amazon announced brought the streaming service of its United Kingdom subsidiary LoveFilm into the service in February 2014.
Amazon Video became available worldwide at the end of 2016, apart from mainland China, Iran, North Korea and Syria, expanding its reach beyond United States, United Kingdom, Germany, Austria, and Japan. Among the new countries, the service was included with Prime in Belgium, Canada, France, India, Italy, and Spain, followed by Poland. In other territories it is available as a separate standalone subscription.
2017 was a record year in hardware sales for Amazon. The company said that the Echo Dot and Fire TV Stick with Alexa were the best-selling products across all of Amazon, across all categories and all manufacturers, with Amazon selling tens of millions of Echo devices.
Amazon has announced a collaboration to bring the next generation of Fire TV Edition smart TVs to customers in the United States and Canada. As a first step in the partnership, the retailer Best Buy will launch more than ten 4K and HD Fire TV Edition models from Insignia and Toshiba, beginning in the summer.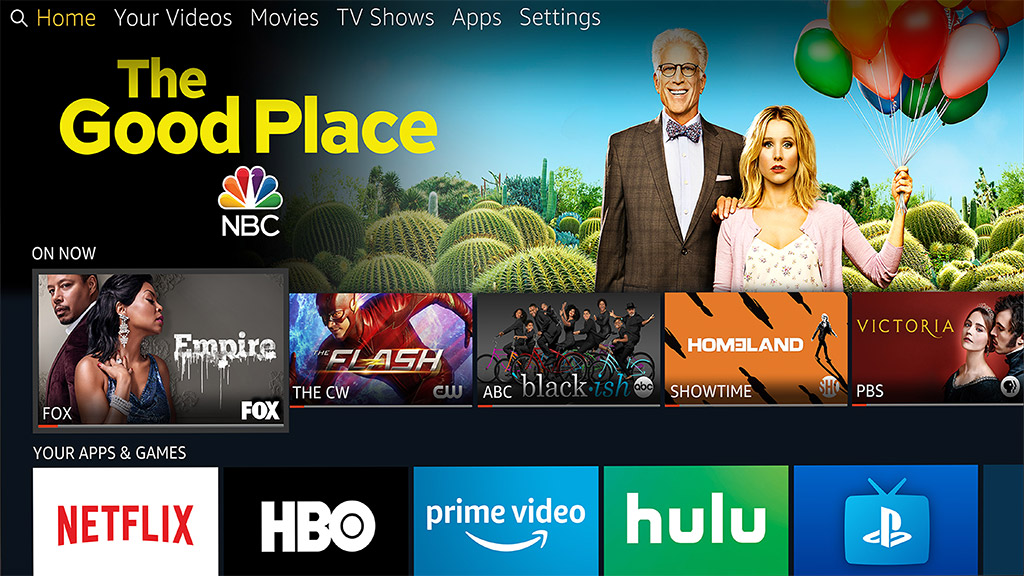 The move shows a surprising level of co-operation with a retail competitor. Fire TV Edition smart TVs will be available exclusively in Best Buy stores, on BestBuy.com, and for the first time, from Best Buy as a third-party seller on Amazon.com.
"Amazon and Best Buy have a long history of working together, and today we take our partnership to a new level," said the chief executive of Amazon. "These Fire Edition smart TVs by Insignia and Toshiba deliver beautiful visuals and all the movies and TV shows you love, with an experience that gets better every day with Alexa. We could not have a better partner in this endeavour."
The smart televisions will integrate the Fire TV experience, combining over-the-air broadcasts with streaming services, including Amazon Prime Video, Netflix, HBO and Hulu.
The news reversed a previous rise in the share price of Roku, which competes with its own video players and licensing its platform to television manufacturers, many of which are sold through Best Buy and Amazon. The value of Roku is down by more than a third since the beginning of 2018.
Amazon is a much larger operation than Netflix and video is only a part of its business. The company recorded $177 billion in sales in 2017, $106 billion of which was in North America. Operating income was $4.1 billion, with international operations reporting a loss, more than compensated for by $4.3 billion in income from Amazon Web Services.
Netflix reported around $11.7 billion in revenue over the same period, with a net income of $0.57 billion.
www.amazon.com
www.primevideo.com
www.netflix.com
www.roku.com