The informitv Multiscreen Index of 100 leading television services worldwide shows subscriber growth of around 1% in the last quarter of 2016, despite losses in America. 10 services gained 2.83 million subscribers between them. Five of them were in India, gaining more than 17% over the year. DIRECTV in the United States and Sky in Europe were among the other highest gains.

The 10 services with the greatest gains added a total of 2.83 million subscribers in the last quarter of 2016. They ended the year with 107.58 million subscribers between them. That represents a 2.7% increase in three months.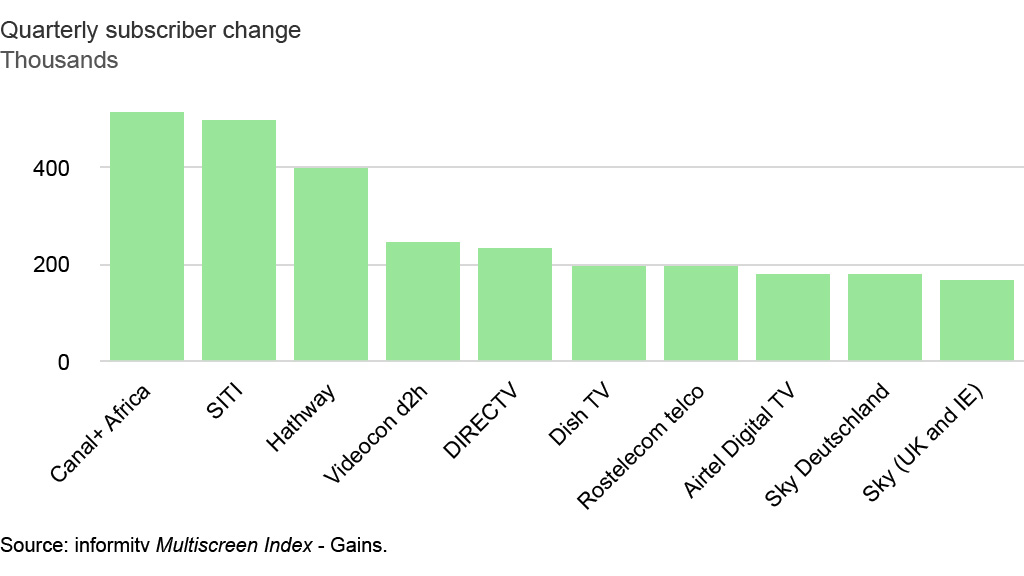 The gains were led by Canal+ Africa services, which added 516,000 subscribers in the quarter, to reach a total of 2.77 million, up 692,000 over the year.
Five services in India featured in the top 10 quarterly gains. SITI added 500,000, Hathway was up 400,000, Videocon d2h increased by 250,000, Dish TV rose by 200,000 and Airtel Digital TV gained 183,000.
There are some very round numbers there, which is characteristic of the reporting by certain service providers. They are generally gaining rapidly as a result of the migration to digital services. They collectively added 9.28 million digital television customers in 2016, an increase of 17.58%.
These five services ended 2016 with 62.06 million digital television subscribers between them. That is more than the top three television service providers in the United States, although the average revenue per user in India is much lower.
DIRECTV in the United States also gained customers, up by 235,000 over the quarter, although the U-verse telco television service of AT&T, its parent company, lost 262,000 over the same period.
Rostelecom added 198,100 telco subscribers, taking its total to 4.23 million, up by 0.81 million over the year, a gain of 23.68%.
Sky gained 183,000 in Germany and 170,000 in the United Kingdom and Ireland, with a further 45,000 in Italy. The Sky group increased its European customer base by 3.96% in 2016. That includes all customers in the United Kingdom and Ireland, not just those taking television services, as Sky no longer breaks out those figures.
The Multiscreen Index comprises 100 leading multichannel television and video services that collectively account for around 420 million subscribing homes worldwide. The index provides an industry benchmark of the relative performance of television service providers against which customer gains or losses can be measured.