BT added 52,000 television customers in the last quarter of 2016, to reach 1.74 million homes in the United Kingdom. With BT TV showing slow but steady growth, it was its lowest gain for six quarters. It was overshadowed by the results of an investigation into its Italian business practices, which wiped off a fifth of the value of company.

BT increased its television customer base to 1.74 million, although it is still a small proportion of its total retail broadband base of 9.27 million, which increased by 83,000, contributing to a total gain of 189,000 for its Openreach division, which now serves 20.31 million broadband customers.
BT has been gaining television homes at an average of around 52,000 a quarter over the last five years, ranging from 21,000 to 164,000 a quarter, or an average of 660 homes a day. It represents steady, if not rapid progress. Back in 2008, BT was aiming at two to three million television customers, which still seems to be some way off. At its current run rate it will be the end of 2020 before it reaches 3 million.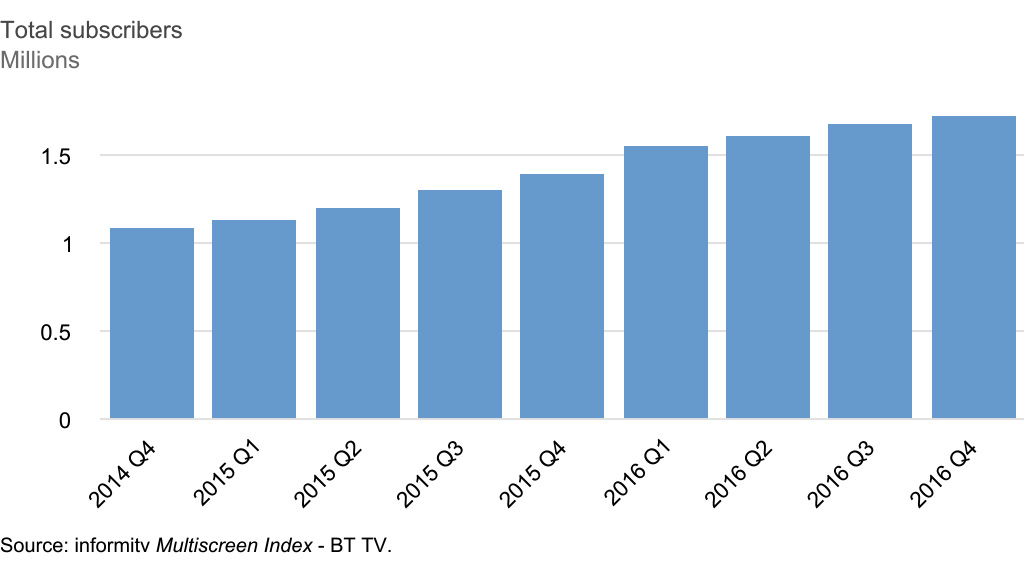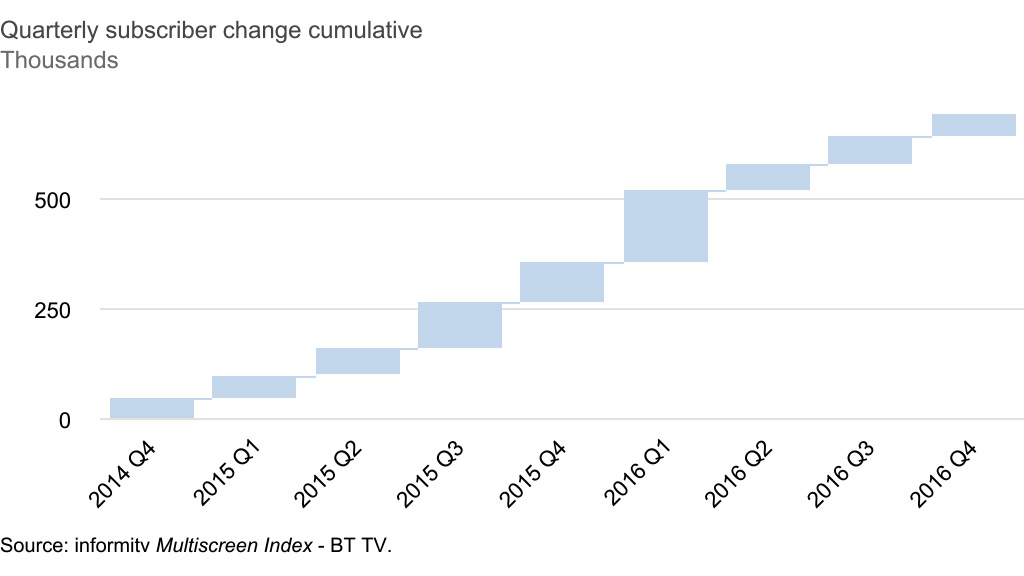 It is still far from clear that its sporting bet has paid off in a bid to outplay Sky in football coverage. BT has already started charging customers for the television service, which was previously free for broadband customers, and will be charging extra for BT Sport.
BT said its average audience figures across all its BT Sport channels had increased by 15%. BT Sport is available in over 5 million households, including those of wholesale partners. Yet BARB data shows the highest-rated programme so far in 2017 had an average of just 744,000 individuals.
The telco has announced plans to transform its television service, introducing a new user experience with easy access to channels and on demand content. There will be a new BT TV app, which will allow viewing in and out of the home, with the option to start watching on the home box and continue on the app and vice versa.
Since the acquisition of mobile network operator EE in January 2016, BT has a mobile customer base of 30.2 million, including 18.2 million 4G customers.
The quarterly update was overshadowed by news that as a result of an investigation into accounting malpractice in its Italian operation BT was half a billion pounds worse off than it thought. That was enough to wipe 20% of the share price of BT, or £7.9 billion off its value.