The number of homes with TalkTalk television in the United Kingdom has continued to decline, falling for the fifth successive quarter. After a strong start, giving away YouView boxes to reach a peak of 1.44 million homes, TalkTalk has been slowly losing television customers. It lost over 100,000 television homes in the course of 2016, an average loss of over 275 a day.

TalkTalk closed 2016 with 1.30 million television customers, down 31,000 in the last quarter.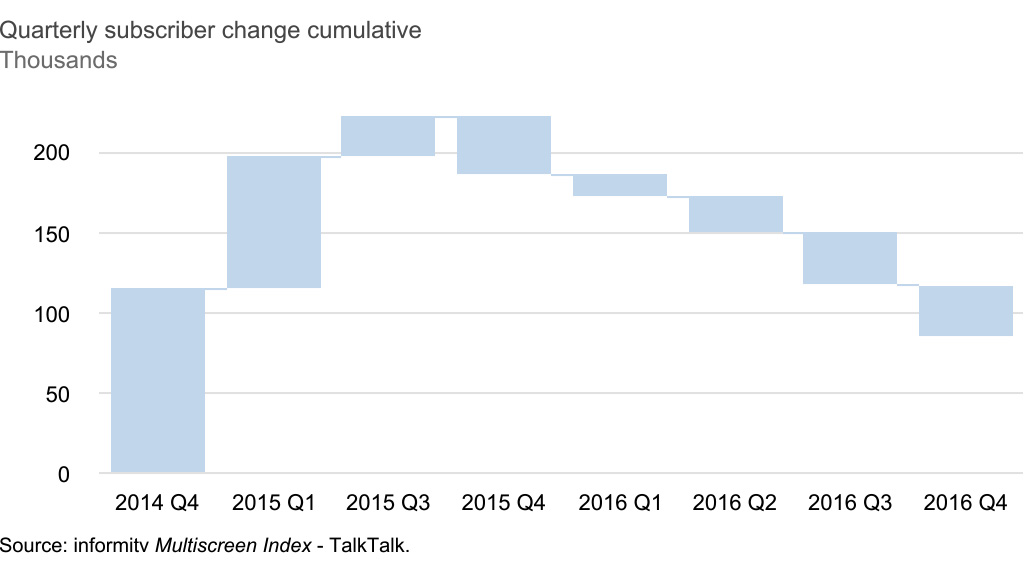 From the launch of TalkTalk TV in September 2012, based on the YouView platform, the company steadily added television homes until the end of March 2015.
In September 2015 TalkTalk reported that it had been the victim of a 'cyber attack'. It turned out to be a simple hack by a 17-year-old who was showing off to his friends. The company was fined a record £400,000 for its security failings. The damage to its reputation was far higher and its television numbers have since fallen away.
Furthermore, TalkTalk lost 42,000 broadband customers in the last quarter of 2016, compared to 20,000 the previous quarter. It has lost over 250,000 on-net broadband customers since March 2015, while its competitors have been gaining customers.
TalkTalk is now offering to fix its prices for customers that are prepared to lock themselves into a two-year contract. However, its value-based utility pricing demonstrates little understanding of how to promote an entertainment service. When it comes to television, the company likes to talk the talk but fails to walk the walk.
Meanwhile, BT has been steadily adding customers for its television offering, also based on the YouView platform. Since September 2015, BT has added 428,000 television customers, overtaking TalkTalk, to reach a total of 1.74 million homes.
Baroness 'Dido' Harding announced that after seven years as chief executive of TalkTalk she would be resigning in May, to be succeeded by Tristia Harrison, the managing director of TalkTalk Consumer.
Sir Charles Dunstone, who co-founded the former Carphone Warehouse selling mobile phones from his flat in 1989, will move to from non-executive chairman to become chairman, after stepping down from that role with Dixons Carphone plc.
His 31% stake in TalkTalk has fallen in value by more than half since the summer of 2015.