Netflix is launching a new television user interface that uses video previews to promote programmes. About time too, you might think. After all, people have been using trailers to promote movies and television programmes for decades. Yet online video has generally been promoted through static images and textual synopses. That could change, as user interfaces become more televisual.

The Netflix preview videos are being launched globally on television interfaces and will initially be available on games consoles and Roku boxes, with smart televisions and other Netflix enabled devices being updated over the following months.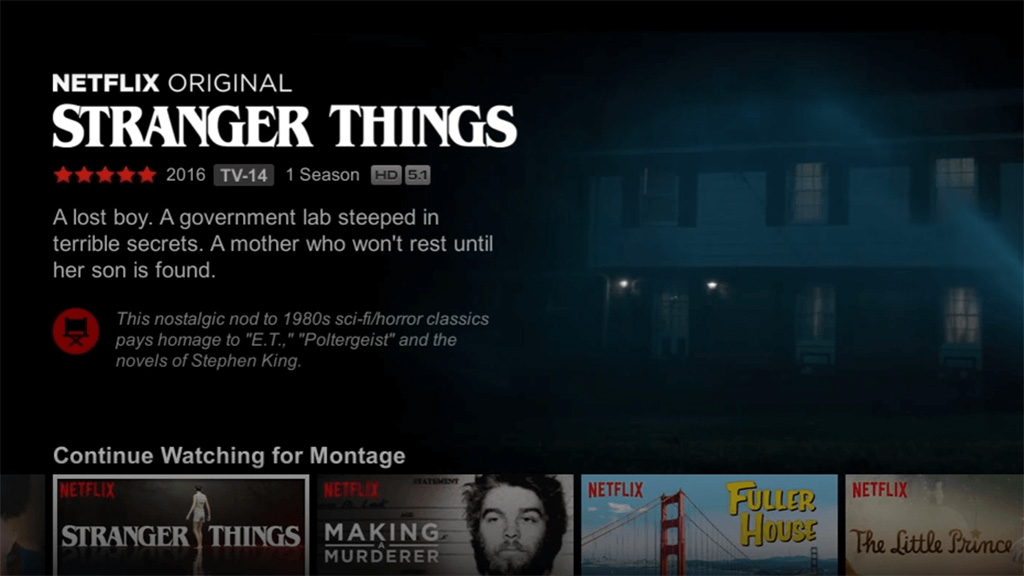 "Six years ago when we imagined what Netflix should look like on a TV screen, it's not surprising we knew video would play a big role," the company explained in its announcement. "Back then, the technology didn't exist to allow us to easily show video to members as they browsed through thousands of titles, and consumers were still getting used to the idea of using the Internet to watch TV."
"As we launch more than 1,000 hours of original content next year, we know we have less than 90 seconds to capture someone's attention and get them excited about a title."
The video previews are not traditional teasers or trailers. They are specially designed video synopses that highlight the story, characters and tone of a title.
"In developing this experience, our testing showed that people watched more of a story, demonstrating these previews helped them browse less and watch more."
This will come as no surprise to broadcasters, who have long specialised in the art of making promotions to encourage people to watch programmes. These trailers and promos even have their own international awards.
So it is extraordinary that online video has for so long been characterised by a scrolling selection of static title tiles from which users are expected to make a selection.
Netflix has been experimenting with different versions of imagery to promote programmes and seen significant increases in response to some variants.
Providing video previews is a logical next step to making the selection of programmes a more satisfying experience. Netflix began testing the service earlier in the year and found that it led to people watching more of a programme.
Some users complained that the previews played automatically, so they will only begin when a user briefly stops browsing. The videos play in the background, alongside an accompanying text description.
Netflix had 83.28 million paid subscriptions at the end of September 2016. Digital TV Research forecasts that it could have 117 million in 2021, which it predicts will be about a quarter of the global total number of online video subscribers.