Netflix now offers some programmes to download for offline viewing, despite its previously stated preference for streaming. The problem remains clearing download rights. As a result, many programmes are not currently available for download through Netflix, and the viewing window varies for others. Yet downloading can offer benefits, providing the user experience is managed.

The download feature is available for certain programmes, including Netflix originals such as The Crown, through an update to apps on Apple iOS and Android phones and tablets.
Many titles remain unavailable for download, including co-productions and many programmes produced by third parties, including all BBC programming.
Netflix is reportedly working to secure downloading rights for the majority of programming on its platform.
"While many members enjoy watching Netflix at home, we've often heard they also want to continue their Stranger Things binge while on airplanes and other places where internet is expensive or limited," wrote Eddy Wu, the director of product innovation at Netflix.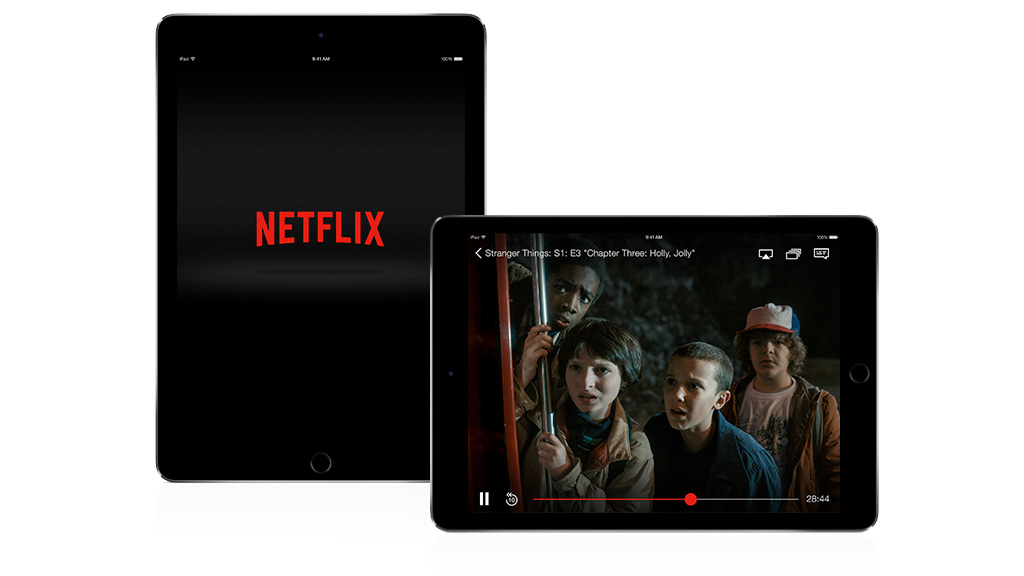 Netflix chief executive Reed Hastings previously said that the platform would never support downloads. In comments on earnings in the first quarter of 2016, he said the company would keep an "open mind" on the matter, after Amazon Video started offering the facility in limited form.
The reason presented for not offering downloads was that it would confuse the user experience. Netflix appears to have solved this. There is now a down arrow button on certain titles, with a prompt that says "Download now to watch offline later".
The real reason for the delay was probably clearing the relevant rights and ensuring appropriate digital rights management around downloaded files.
However, there is also a user experience concern. Netflix relies upon recommendations and ease of use to deliver its service. If users end up wondering what to download, how long it will take, how long it will be viewable and how much storage it will occupy, it gets in the way of the simplicity of experience.
Nevertheless, the ability to stock up on videos for later offline viewing is clearly attractive to many users, making it one of the most requested features.
It is often assumed that streaming is the only way to deliver video on demand. Yet as storage becomes cheaper and more abundant it may make more sense to support downloading.
Interestingly, Sky has long favoured progressive downloading to its set-top box and it works rather well. With a decent network connection a programme is available to play within seconds. A benefit is that programmes are always presented in consistent quality, unlike adaptive bitrate streaming where it can vary according to network conditions.
The average bitrate used by Netflix in the United States is only around 3.5 megabits per second. Even on a Verizon fibre connection it is only 3.7 Mbps. It is not much higher in the United Kingdom, at 3.8 Mbps on Virgin Media, although its cable customers typically receive download speeds of 50 Mbps and in some cases significantly higher, with an average of over 70 Mbps.
Of course downloading is not possible for live events and channels, which are increasingly part of the online video experience.