Apple announced extended support for streaming on its devices that will simplify video encoding for multiple platforms. It means that newer versions of the Apple operating systems will be more compatible with the industry standard MPEG-DASH format. Apple also previewed a single sign-on system to allow users in the United States easier access to apps associated with their pay-television service.

At its developer conference, Apple announced that its devices will support the MP4 format, as an additional alternative to the MPEG-2 Transport Stream, allowing the same media to be used for both MPEG-DASH and Apple HLS protocols, with only a difference in the supporting manifest files.
The MP4 segments can also be protected with MPEG-CENC Common Encryption in HLS, which is also used by MPEG-DASH, and supported within all major browsers. Content can be encrypted once and used with different digital rights management systems, including Widevine, PlayReady, PrimeTime and FairPlay.
It means that the same encoded media can potentially be used across different devices and browsers, reducing storage requirements and increasing efficiency for content distribution networks.
"Up until now you either had to store multiple versions of the same content or provide repackaging and encryption on the fly to reach the heterogeneous landscape of OTT devices," explained Dr Göran Appelquist, the chief technology officer at the Swedish company Edgeware. "The same encrypted media segments can now be stored, cached and routed over the networks, regardless of the type of device or choice of browser."
"When we heard the news, I think it's safe to say that we were even more excited than the Apple technicians," wrote Reinhard Grandl of the American company Bitmovin.
Apple HLS also supports offline playback with FairPlay, which allows suitably enabled media to be viewed later when without a network connection.
The MPEG group is working to define a Common Media Application Format or CMAF, originally proposed by Apple and Microsoft. This specifies the MP4 fragment definition. It specifies unmixed audio and video delivery, and requires that every video segment starts with a key frame, with precise segment alignment across bit rate versions.
The CMAF standard will set a clear standard for a format optimized for large scale delivery of a single encrypted, adaptable multimedia presentation to a wide range of devices.
In the end, it should increase interoperability across ecosystems of Apple, Android and other devices and browsers, rationalising the delivery of online video.
Apple announced support for fragmented MP4 at its WWDC16 Developer Conference in San Francisco.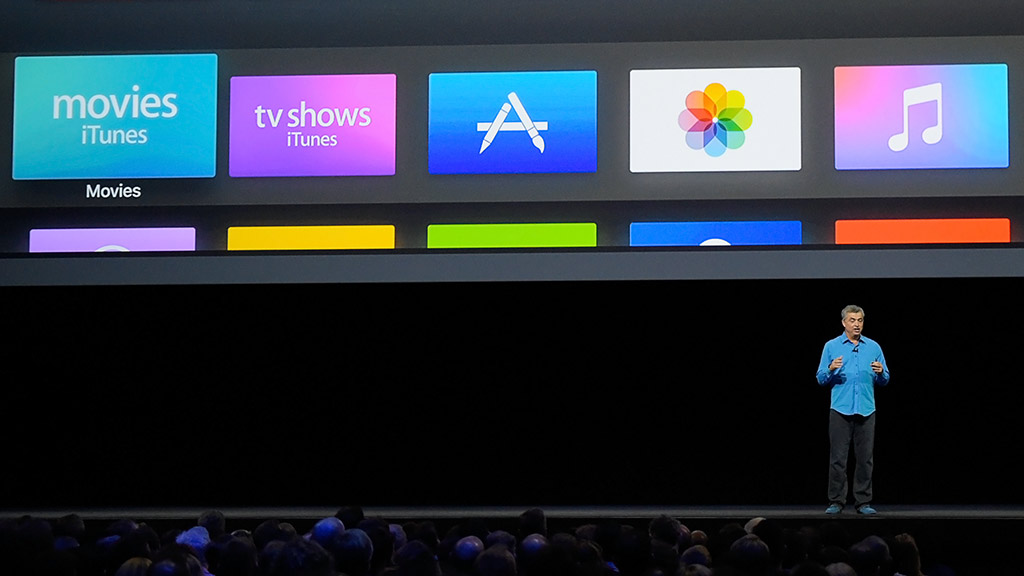 At the event Apple also announced forthcoming updates to its tvOS and iOS operating systems. They include enhanced Siri voice search and a single sign-on system for pay-TV customers in the United States.
Once a user is signed into one network app, any other app on Apple TV from participating pay-TV providers will automatically log the user into other supported apps.
"The future of TV is apps, and Siri on Apple TV has changed the way we interact with our television and these expanded features will continue to deliver viewers what they want to watch even faster," said Eddy Cue, senior vice president of internet software and services at Apple. "There are over 6,000 apps to enjoy on your Apple TV including over 1,300 video channels, which are even more fun to watch with the new Siri features combined with single sign-on."
Apple is steadily enhancing its video ecosystem and attracting glowing testimonials from industry partners.
"tvOS on Apple TV takes the Sling TV app to new heights, creating a seamless combination of technology and entertainment," said Roger Lynch, the chief executive of Sling TV, the DISH Network subsidiary.
"tvOS has allowed STARZ to create an experience on Apple TV unlike anything we've done before and our subscribers are loving it," said Chris Albrecht, the chief executive of movie service STARZ.
Enabling online services to support the Apple ecosystem along with other platforms through a unified set of video container files or streams will go some way towards harmonising the online video world.
www.apple.com
mpeg.chiariglione.org
www.edgeware.tv
bitmovin.com