The BBC is lobbying to protect its prominence in television user interfaces as the focus moves to viewing on demand. Yet the BBC is partly responsible for the inaccessibility of its services on pay-television platforms. The result is an unsatisfactory user experience, even on the latest platforms such as Sky Q. The government has indicated that new regulation may be required to ensure the prominence and availability of public service programming.

The prominence of public service broadcasters in electronic programme guides has generally been preserved by regulation. This has contributed to the large share of viewing from which these channels have benefitted.
While these broadcasters have pushed their own on-demand players they are coming under pressure from pay-television providers who want to bring them together under a single unified interface.
This is something that public service broadcasters have generally resisted, even when they are shareholders in a platform like YouView, where they still maintain their own individual players.
The existing regulations about prominence cover scheduled channels, but the user interfaces of pay television services are increasingly promoting other on demand viewing options, from recorded programmes, catch-up catalogues, box set libraries and movies.
The new Sky Q interface, promoted as a 'fluid' viewing experience, ironically does little to make it easy to find programmes on traditional channels.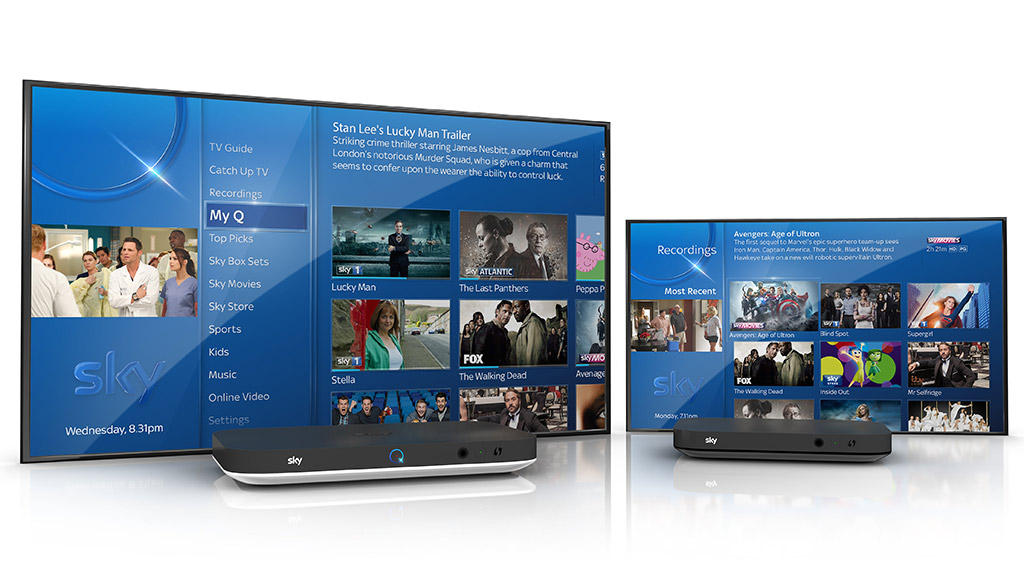 The home screen defaults to a 'Top Picks' selection of promoted titles. Users have to scroll up to find the 'TV Guide' with its conventional list of channels.
Although there is a set of genre classifications, the favourite channels feature has been dropped, meaning that users have to search through a text list of channels they may never watch.
The main BBC channel appears with due prominence in the 101 slot, but only in standard definition, because amazingly after over a decade the BBC has still not committed to providing its regional services in high definition, or an alternative sustaining service. As a result, the main network reverts to a revolving symbol whenever there is regional programming.
The high definition channels are presented in apparently arbitrary order, headed by BBC Two HD on 102 and users have to scroll down to channel 115 for BBC One HD. That is because the BBC arrived late to the party, originally launching its high definition service as a trial with limited programming.
The experience on the Sky Q companion app is no better, reflecting a similar user interface to the set-top box. The previous generation app served as a useful remote control that partly made up for the shortcomings of the traditional guide. The new Sky Q app instead assumes that users want to watch programmes on their handheld device, rather than offering the option to control the television.
Furthermore, while BBC programmes are available as catch-up and can be downloaded to the set-top box from the app, they cannot be played within the Sky Q app.
The BBC has generally been insistent upon promoting its catch-up programming within its own interface, which works well but leads to an inconsistent user experience between different services.
Sky has been equally adamant of the need to provide a consistent user experience across different programming providers, which has been successfully achieved, with the reluctant acceptance of the BBC.
Lord Hall, the director general of the BBC, is reported to have had recent talks with Sky chief executive Jeremy Darroch over the issue of the prominence and availability of BBC programming.
It follows comments in the recent government white paper on the future of the BBC. It said: "As viewing habits change and services develop, the BBC's approach to where and how it shares services and content will need to keep pace with where and how audiences consume content, ensuring that it delivers against its commitment to make BBC content as widely available as possible. With more than half of all households taking subscription-based services, the BBC needs to consider how it can continue to make services and content available to viewers who use other platforms and applications to watch content."
It continued: "the BBC also has a duty as a public service broadcaster to ensure that its content is given appropriate prominence, findability and attribution on those platforms run by others, and should have the flexibility to secure these public benefits in commercial negotiations."
"The BBC should look to maximise the opportunities it has to make its services and content as widely available as possible and it should only place reasonable conditions on how its content is distributed. The BBC can rely on a proprietorial approach but only where the public interest is best served by this."
The rules on prominence in the United Kingdom are currently provided in section 310 of the Communications Act 2003, under which the regulator Ofcom has a duty "to draw up, and from time to time to review and revise, a code giving guidance as to the practices to be followed in the provision of electronic programme guides."
This includes the "listing or promotion" of the programmes included in each public service channel and the "facilities" to select and access them. It includes "Any service of television programmes provided by the BBC in digital form". This would appear to include the provision of programmes on demand.
Viewers are currently poorly served by the strict interpretation of prominence by increasingly meaningless channel numbers or the segregation of on-demand services.
A more flexible approach is required, providing appropriate prominence to the services of public service broadcasters, both through scheduled channels and on demand, which allows users to access and view them in the most convenient way.