DisneyLife is a new online subscription service initially available in the United Kingdom, just in time for Christmas. It allows family members to access a collection of Disney entertainment services in and outside the home for just under £10 a month. The service is expected to roll out to other European countries. So how will this affect existing distribution relationships?

The DisneyLife service is offered with a free one-month trial and is then charged monthly unless cancelled. It arrived just in time for Christmas, making it relatively inexpensive entertainment for a family. The ambitious price point is pitched above a Netflix subscription but offers a value proposition if you buy into the Disney world.
DisneyLife members can access the Disney online experience through a browser, through an app on compatible Apple and Android devices and also watch on through Airplay and Chromecast.
DisneyLife allows for the creation of up to six profiles, allowing family members to personalise their experience. Parental controls allow management of screen time, including time limits for weekday and weekend use. Families can add up to ten compatible devices. Each account supports streaming to up to four authorised devices at the same time.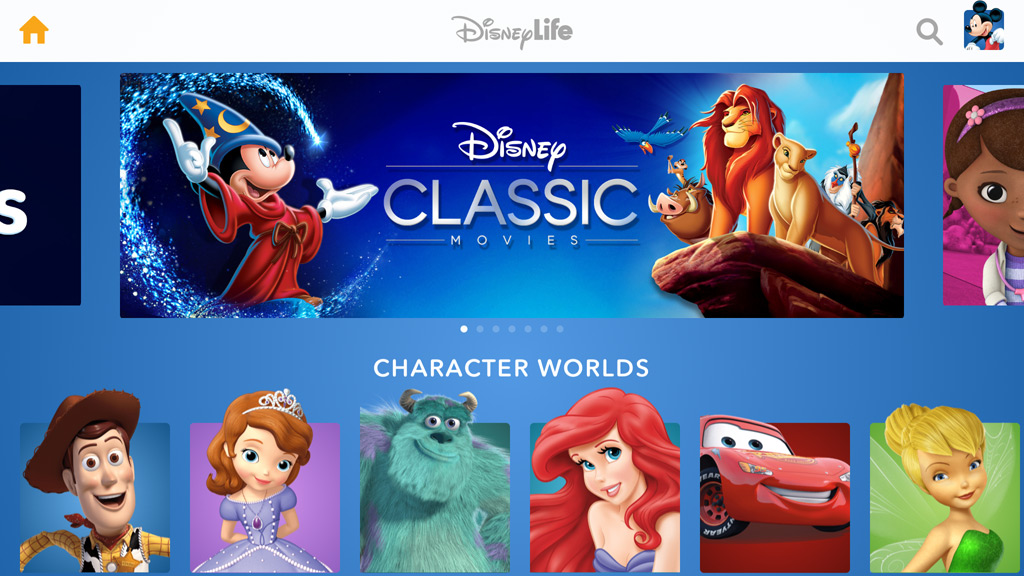 The service includes unlimited streaming in the United Kingdom, including high-definition video in 720p and 1080p formats, although broadband data charges may apply. Users can also download media in the United Kingdom for viewing for up to thirty days when travelling, although this is not available in high definition. There are no additional in-app purchase costs once users have subscribed. It includes movies, television shows and books in up to five different languages: English, French, German, Italian and Spanish. There is also music from Disney artists and movie soundtracks.
"Our team has worked tirelessly to create a personal, intuitive and unique experience for the whole family," said Paul Brown, the general manager of DisneyLife UK. "Disney means something different to every parent and child and now with DisneyLife we are handing over the keys to them to explore the ever-expanding digital world of Disney — wherever they are and whenever they want."
Movies available range from archive classics, like Fantasia, through Pixar movies, such as Toy Story, to Disney movies like High School Musical or Honey, I Shrunk the Kids. There are 'box sets' of television shows, soundtracks to Disney classics and Pixar movies, storybooks, audio books and reading books.
DisneyLife does not include the Marvel or Star Wars franchises, although these could be available separately in the future.
Early reviews from users were either very positive or reporting apparent bugs and issues.
DisneyLife is being launched initially in the United Kingdom, but clearly has the potential to roll out internationally.
According to Peter Pan, "All it takes is faith and trust… and a little bit of pixie dust".
Some have seen going direct to consumer as a challenge to traditional channels, but they may be viewed as complementary. It is even possible to see the service being bundled as part of a television or broadband subscription.
Speaking recently to analysts, Bob Iger, the chief executive of Disney said: "We're in an environment today that's definitely changing. It's different than the environment before. There's a lot more competition for people's time. With that interestingly enough, we have an opportunity to distribute our content in many different ways than we ever have before — in more different ways than we ever have before."
He said that the company is seizing opportunities to "augment" the primary form of distribution to television, through multichannel video programming distributors, in other words pay television.
"In reality the multichannel business model, while facing more competition than ever before, is still a huge driver of value for this Company," he said. "What we ultimately would want to do would be to do whatever we can working with the distributors to make that product more compelling and more consumer facing than it ever has been. That's really the biggest goal."
"I think we could get to a point where off-network programs, both in season and prior season, are bundled with the channels that the programs were originally on. And that may be a feature that's offered to multichannel subscribers that's designed as a means to perpetuate that business model or make that business model more consumer friendly."
In other words, companies like Disney can use the threat of going direct to consumer to encourage existing distributors to up their game in order to protect the cash cow that is pay television.
The United Kingdom represents an interesting test market for Disney, chosen apparently because there is a strong affinity for the brand, and the nature of existing distribution relationships, primarily with Sky.
It will enable the company to iron out any problems and evaluate the reaction from both customers and existing partners.
The service is expected to launch in France, Spain, Italy and Germany, but there are no announced plans for the United States, where Disney owns the ABC Network, a joint venture shareholder in Hulu. However, Disney is not ruling out offering the service in its home market, or extending it to other brands.
The concept of a one-stop Disney shop may be attractive to some parents, although not everyone will want their children to be limited to a single supplier, albeit with brands ranging from Bambi to Pirates of the Caribbean.
Parents may not wish to hand over the keys to the magic kingdom, but may prefer more granular control, particularly with younger children. Many parents will welcome the absence of advertising, providing a further opportunity to test the theory that people will pay to avoid adverts.
Whether pester power will be strong enough to persuade parents to part with a tenner a month to indulge their little darlings with an all you can eat Disney diet remains to be seen. The key question is whether it will make them more or less likely to engage with Disney through other channels.