The latest TiVo model offers 4K support and even easier skipping through commercials. The TiVo BOLT with SkipMode allows users to skip an entire commercial break of some recorded shows at the press of a button. It has a QuickMode feature, which allows 30% faster viewing of recorded shows while maintaining audio pitch. TiVo aims to unify television channels and online video through a single user interface. It also helps viewers cut through the advertising on which the commercial television business model is based.

TiVo is aiming for the mass market, which has so far eluded the pioneer of the digital video recorder. It aims to bring together traditional channels and online video services to create what TiVo calls a unified entertainment system.
"The TiVo BOLT arrives at a time of piqued interest in both connected devices and commercial avoidance," said Tom Rogers, the president and chief executive of TiVo. "The clear demand of consumers is for a TV experience that quickly delivers them exactly what they want the instant they turn on the screen. BOLT is a game changer that will remind people of how they felt the first time they experienced digital recording."
"BOLT was designed to meet the requirements of a new generation of TV viewers," said Ira Bahr, responsible for marketing and retail sales at TiVo. "Smaller form factor, 4K compatibility, single-screen integration of cable or over-the-air, plus streaming apps, the ability to take your content anywhere — and for the first time, the ability to precisely jump commercial breaks at the touch of a button."
The TiVo BOLT will work with an over the air antenna, digital cable, or Verizon FiOS, but not a satellite signal, AT&T U-Verse or Google Fiber. It integrates access to Netflix, Amazon Prime, Vudu and other online services. With HDMI 2.0 and HDCP, the BOLT promises to play 4K programming at 60 frames per second and it will upscale other output to a compatible television. An app for the Amazon Fire TV will also enable remote viewing of recorded programming, both in and out of the home.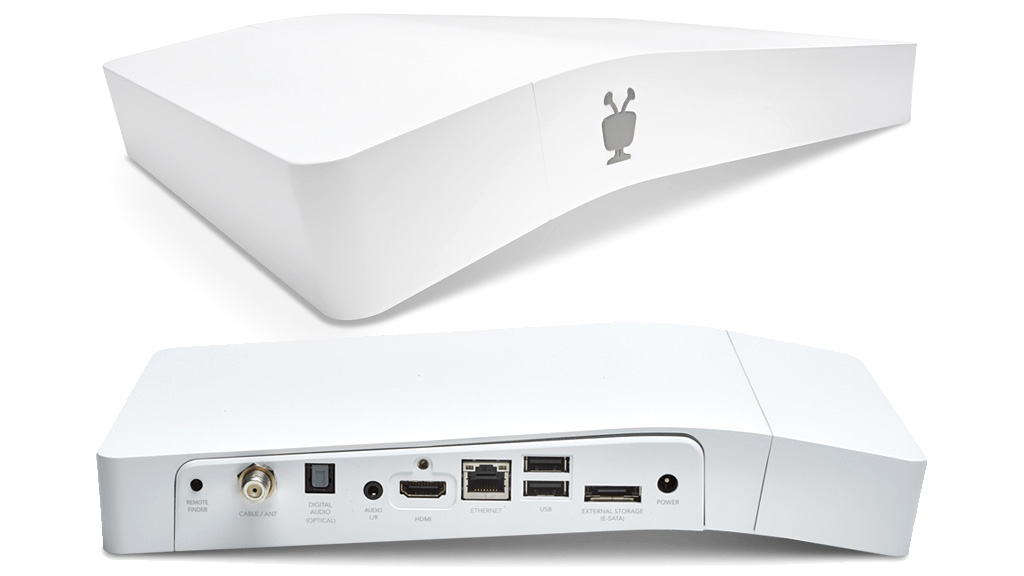 The TiVo BOLT costs just under $300 for a model with 500 gigabytes of storage, or just under $400 for a one-terabyte model. That includes a year of TiVo subscription, which currently costs just under $150 a year, in addition to any other television or broadband fees.
The bent box design is an eye-catching but rather impractical attempt to look and keep the box cool. It may not offer enough storage or tuners for TiVo fans, who represent an enthusiastic minority of television viewers.
The main problem that TiVo faces is in attempting to charge a monthly or annual fee for the use of a retail box.
TiVo also only supports the video on demand services of Comcast and Cox, although it says it is willing to work with other operators.
Ira Bahr, the chief marketing officer, was commendably candid in comments to customers on the TiVo community web site.
"There just aren't enough of you to sustain the company's retail business alone," he said. "TiVo is simply unable to build its business on the backs of its ever diminishing group of loyalists. We did 150,000 activations in our last fiscal year. Compare that to the millions of streamers out there, and the tens of millions of DVRS out there and you see that we've got a lot of ground to make up. In order to win for the the company, and for YOU, we need to expand our market. If we fail to do this, we're not going to be able to do much of anything."
"We recognize that every company in the valley is trying to crack the code of TV's future. We must stay on our A game," he said.
A pro version of the Bolt is expected in 2016, with at least six tuners and considerably more storage.
Apparently there are "no hardware reasons" that the SkipMode and QuickMode features could not be applied to the existing series of TiVo Roamio products.
TiVo says its ad-skipping capability, facilitated by a combination of human and automated marking, is better than the AutoHop feature offered by DISH Network. TiVo claims to cover the most watched shows across 20 channels, within minutes of the end of a programme. In comparison DISH covers 4 networks in prime time and is not available until 24 hours after a show airs, in some cases not until a week later.
Given the litigious nature of the television networks, we can expect that SkipMode will not be without its legal challenges. The greater challenge may be maintaining business relationships with the networks whose advertising revenue it potentially threatens.