The BBC is pushing the red button on a range of connected televisions with an interactive experience it now calls Red Button+. It represents the continuing evolution of red button services on the BBC, first introduced over 15 years previously. The red button is pressed on BBC channels by an estimated 13 million people in the United Kingdom every week.

The former Connected Red Button service was originally launched at the end of 2012 on the Virgin Media Tivo platform and at the end of the following year on a number of smart televisions.
Now to be known as Red Button+, it will be available on more devices, including those from Samsung, LG, Sony, Panasonic, Sharp and Toshiba, and YouView and EE TV boxes, as well as on TiVo through Virgin Media.
Through a press of the red button on the remote control, users will be able to access the BBC iPlayer, the latest news, including video highlights, live streams of sporting events, with headlines, highlights and results, and the local weather.
Users can still access the original red button service if they wish. Not all features of the original service are available on Red Button+ although the range of content will develop in the future.
There are currently no plans to bring Red Button+ to the Sky platform, although the existing service will be maintained.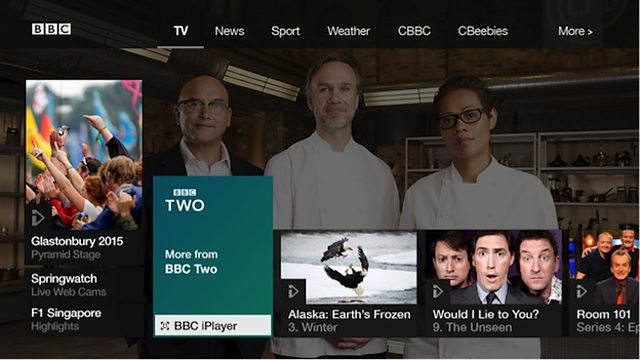 The history of the red button services on the BBC can be traced back to the BBC Text service introduced in late 1999 as an alternative to the BBC Ceefax teletext service, which was first broadcast in 1974.
The numerical shortcodes, an intrinsic feature of the original Ceefax, introduced to the digital text service, apparently by popular demand, will not be a feature of Red Button+, which uses cursor based navigation.
The Red Button+ service represents a gradual evolution from the legacy of MHEG-5 interactive television services to applications based on HTML and JavaScript. The BBC has created its own abstraction layer, which it calls the TV Application Layer or TAL, to shield developers from the idiosyncrasies of different devices.
Delivered over a broadband connection, the Red Button+ service offers access to more material than was possible over the broadcast network.
By the end of 2016 the BBC expects that there will be 16 million households in the United Kingdom with access to connected televisions.