Australian viewers will soon be spoilt for choice of online viewing as a froth of services streams over the top down under. Presto Entertainment, a joint venture between Foxtel and Seven West Media, has just launched its Presto TV subscription service, joining Presto Movies. Fairfax and the Nine Network are planning their own joint offering, known rather strangely as Stan. Netflix is expected to launch officially in Australia in March, taking on the local Quickflix service.

Presto TV brings together complete seasons of shows from American studios including HBO, Showtime, CBS and Viacom, as well as local programming from Foxtel, the Seven Network and ABC Commercial and a number of British imports.
Australian viewers can sign up to Presto TV or Presto Movies for AU$9.99 a month or both bundled together for $14.99 a month with no continuing commitment. The movie service was originally offered at $19.99 a month.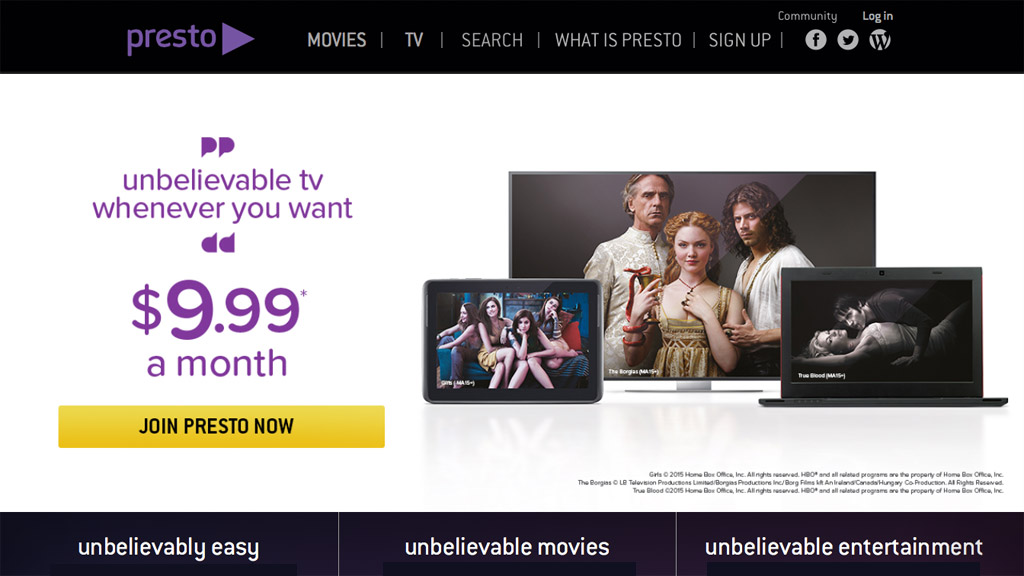 The Presto services are available across Windows and Mac computers, iPads and through Google Chromecast, support for selected Android tablets to come. Subscribers can register up to four compatible devices and watch on up to two simultaneously. Disappointingly, Presto is currently only available in standard definition.
"Presto TV will provide a fantastic television experience for subscribers for just $9.99 per month with a terrific line up of hit shows, quality dramas and hidden gems which can be streamed ad-free and watched instantly on demand," said Shaun James, director of Presto.
The pricing is similar to Stan and Quickflix. It is comparable to the cost of Netflix in other markets.
Stan is the improbably named subscription video service from Stan Entertainment, a joint venture between Fairfax Media and the Nine Entertainment. Mike Sneesby, the chief executive of the company, said: "We tested a lot of different names and different categories. We wanted to move our name away from that technology platform of being a 'view', a 'flix', or a 'tube'." The service has a distribution deals with CBS, Sony Pictures, MGM and BBC Worldwide.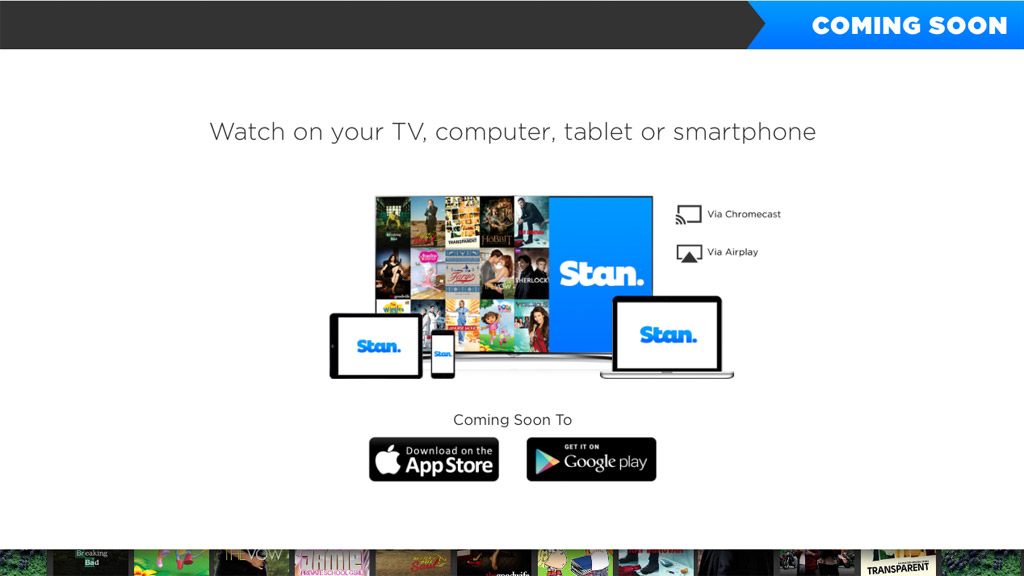 Quickflix is an existing subscription video service in Australia and New Zealand. It was founded in 2003, delivering discs by mail, rather like the original Netflix model in the United States. It launched streaming services in 2011 but has since struggled as a business. HBO took a strategic stake in the company but in 2014 Nine Entertainment acquired its 8% shareholding for just a million dollars.
Netflix is expected to expand its service to Australia, where an estimated 200,000 subscribers are believed to access the service through services that bypass geographic restrictions.
Increased competition will serve to promote awareness of online video services. Despite great interest in shows from the United States and the United Kingdom, Australian viewers have been relatively poorly served online, while metered broadband services have dampened demand.
Unfortunately for customers, the various services will each offer different libraries of shows. Some will have some shows exclusively, some will only have certain seasons, and some series will still only be available through Foxtel pay television and its companion service Foxtel Play.
Many will no doubt continue to access programming from more dubious sources, downloading torrents of shows shortly after they air elsewhere.
The wider availability of subscription services will be a challenge for the box set market of physical discs, which is already in decline. It also poses a threat to other online video services, such as BigPond Movies from Telstra and the Movie Box offering on Fetch TV.
Netflix may now have a tougher time when it finally launches in Australia. Its management may regret not having rolled out the service there earlier. Nevertheless, Netflix has broad device support and is already synonymous with subscription video, even where it has yet to launch.
Experience elsewhere suggests that some people will sign up to more than one service. Deloitte predicts that by the end of 2015, one in five homes in some markets will have three or more pay-TV subscriptions.
However, it remains questionable that the relatively small Australian market will be able to sustain so many competing services, which is likely to lead to rationalisation.
www.presto.com.au
www.stan.com.au
www.netflix.com
www.quickflix.com.au