Netflix ended 2014 with 54.48 million paid members worldwide, of which 16.78 million are outside the United States, 5 million of them in Latin America. The company added 1.90 million customers in the United States and 2.43 million elsewhere. Netflix says that internet television is becoming mainstream, but is it the end of television as we know it?

Netflix is unsurprisingly positive about its prospects. In its letter to shareholders it writes: "It is increasingly clear that virtually all entertainment video will be Internet video in the future." It is continuing to look for growth in the United States, where it aims to achieve "must have" status in most households, although the rate of subscriber gains appears to be slowing, with a year-on-year reduction in net subscriber additions.
A launch in Australia and New Zealand is confirmed for late in the first quarter of 2015, with further major countries later in the year.
Internationally, Netflix aims to complete its global expansion over the next two years, which is earlier than it previously expected. Already in about 50 countries, it says acceleration to 200 countries is largely made possible by the tremendous growth of the internet in general, including on phones, tablets and smart televisions.
Global expansion increases revenue to allow the company to develop and licence more programming, enables it to source material internationally for worldwide distribution, with the efficiency and influence that a global licensor provides.
By licensing directly with studios for all current and future operating territories, Netflix can avoid the need to do deals country by country, making its offering more global. It has seen some success with its own original commissions, which are among its most watched titles.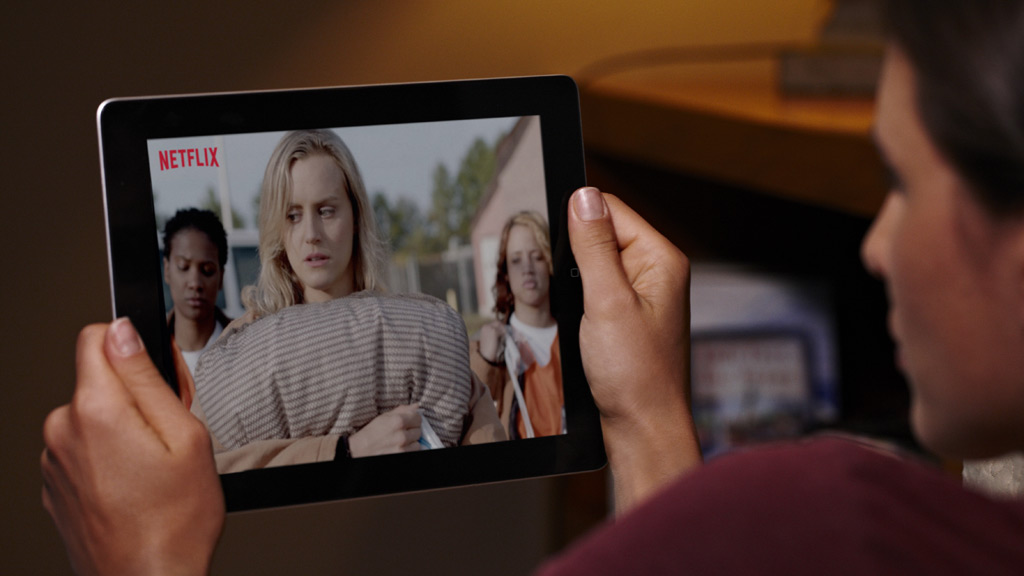 Although Netflix provides little information on viewing patterns, it says that watching television shows on its service is generally bigger than movies. Watching on a television screen accounts for the majority of viewing, with personal screens making up 30-40%, varying by market. In terms of total viewing, the company simply says it continues to grow, with median hours of viewing continuing to climb in every market.
The company says it is shooting the vast majority of its original series in Ultra HD. It will charge a small premium for Ultra HD, which over time will increase its revenue per subscriber.
"If you look ahead two years, four years from now, many of the TVs sold at Best Buy will be Ultra HD, and lots of our content will be Ultra HD. And it's a natural match," Reed Hastings, the chief executive of Netflix, told analysts.
Netflix nevertheless faces increasing competition on all fronts, from standalone services and those associated with existing television services, as well as from unauthorised distribution. "Internet TV is going mainstream," notes Netflix.
HBO is planning to launch a standalone service direct to online subscribers in the United States. DISH has announced its online Sling TV service that will include access to CNN and ESPN.
Research from Parks Associates found that 17% of households with broadband in the United States said they would subscribe to an over-the-top service from HBO. Over 90% of them are currently pay-television subscribers and around a half said they would cancel their pay-television services as a result.
In all probability they will not, based on evidence to date. Over 50% of U.S. broadband households subscribe to an OTT video service, but Parks Associates analysts say this finding does not mean consumers are ready to abandon their televisions.
"This shift to the use of OTT on the TV screen will impact the entire ecosystem, including pay-TV providers, broadcasters, cable networks, and advertisers," said Brett Sappington, the director of research for Parks Associates. "Everyone will need to adjust to a new way of doing business."
"Television is not dying, but it is evolving," added Glenn Hower, a research analyst with the firm. "The age of appointment television is coming to a close, and programming will need to adapt to an on-demand environment."
So far the growth of Netflix to reach 37.70 million paid subscribers in the United States has had little demonstrable impact on pay television.
The leading pay-television services in the United States saw a small fall of 45,000 subscribers in the third quarter of 2014, as reported by the informitv Multiscreen Index. Cable companies lost television customers, but telco television services continued to make considerable gains. Overall, the top 10 television services added nearly 300,000 television subscribers year on year.
It is difficult to assess the impact of Netflix without published viewing metrics. In many ways it is more like an additional channel, rather than a replacement for television. If anything it is taking market share from the distribution of physical discs and box sets.
What is interesting is the potential for global growth, providing a channel for worldwide distribution. While incumbents are launching their own services to defend their territories, Netflix is accelerating its global expansion to seize the opportunity.
www.netflix.com
www.parksassociates.com
multiscreenindex.com