The connected home and the so-called internet of things are likely to be key themes and memes at the International CES event in Las Vegas, where consumer electronics companies come to show their latest innovations. While display manufacturers will be promoting bigger, thinner, sharper, brighter, more colourful and curvaceous screens, an intriguing prospect is the connection of the smart television to a smarter home, as informitv reports.

EchoStar is showcasing its Sage secure home automation solution. This is currently based on a small device with a loop-through HDMI connection that can be used in conjunction with an existing set-top box. It works with a remote control that includes additional buttons for home automation functions. These can be used to view security cameras or control heating or lighting in the home.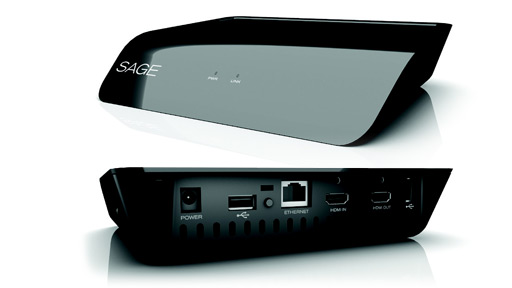 The box includes Zigbee, Z-Wave, WiFi and Bluetooth wireless communications, enabling it to be integrated with a wide variety of home automation sensors, switches and locks.
Rules can be programmed to trigger in response to certain events or scenarios. High-definition video images from security cameras can also be seen on screen or viewed remotely on an Apple or Android app, with manual or event-triggered recording. It uses technology that EchoStar gained with its acquisition of Sling Media.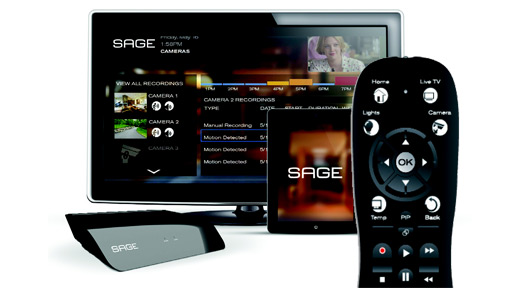 The product will be offered as a standalone device for home installation, but you can also expect to see it integrated into set-top boxes, including those of sister company Dish Network.
Other pay television and telecommunications providers may also wish to offer added value services around home automation and security to enhance loyalty to their subscription packages.
EchoStar is not alone in spotting the opportunity to integrate home automation, although other potential players, including Google, Apple and Amazon are not exhibiting at CES.
Google acquired Nest Labs for $3.2 billion shortly after the last CES to support its ambitions in smart home automation. The company produces learning thermostat and smoke detector systems.
Apple subsequently announced its own HomeKit framework for communicating with connected devices within the home. The AppleTV could provide a point of integration and control, as part of an ecosystem of Apple devices.
Where Apple and Google go others will surely follow, from major consumer electronics manufacturers like Samsung to smaller firms aiming to interoperate with others.
That begs the question whether the television itself could become a control point for home automation. Manufacturers have been promoting smart televisions that although well connected are not really very clever. Through integration with home automation systems they could become the heart of the connected home.
Then there are the privacy and security considerations. Consumers already give away a wealth of data about their lives to multinational corporations and it transpires national security organisations.
Should people be comfortable in their connected homes giving away even more information about their lives? Can they trust the integrity of such systems, given the potential for massive breaches of security? Can they even be persuaded to install the various components for the convenience of being able to turn lights on and off with their remote control?
Our view is that the television set will become just another network-connected display and a focal point for monitoring and controlling connected services, alongside other screens in the home. Home automation may not be for everyone but will be highly valued by those that adopt it. This represents an opportunity for service providers to offer added value services.