For the first time in decades, fewer than ten million people watched the most popular television show on Christmas Day in the United Kingdom. The New Year's Eve Fireworks was one of the most watched programmes of the year, which is remarkable in itself. The most popular programmes now attract about half the audience they used to, even when timeshifted viewing is taken into account, as an analysis by informitv demonstrates.

The situation comedy Mrs Brown's Boys was viewed by a total of 9.7 million people, 2.1 million of them apparently choosing to watch after the original transmission on BBC One. The same show was watched by 11.52 million on Christmas Day in 2013 and 11.69 million the previous year, according the BARB ratings.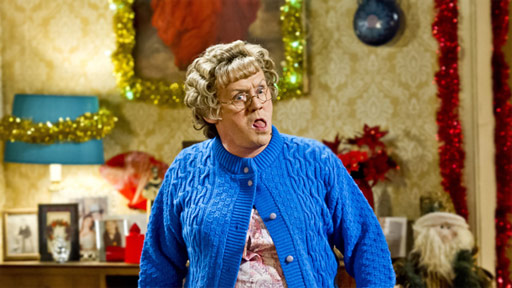 There are 58.5 million individuals aged over 4 in the United Kingdom. So an audience of ten million represents around one in six people, which is still a significant proportion of the population, but nothing like the audiences of even a decade ago.
The Christmas ratings reflect a long-term decline in audiences to popular programmes.
The BBC serial drama EastEnders was watched by 8.6 million, its lowest Christmas Day audience. As recently as 2011 it was the most popular programme of Christmas Day, watched by 11.33 million. The 2004 Christmas Day episode was watched by 12.82 million and in 2000 a total of 18.31 million watched it, including the repeat. Back in 1986, a year after it began, the Christmas Day episode was watched by over half the country, attracting a combined audience of 30.15 million.
Over on ITV, the Christmas Day episode of rival Coronation Street was watched by just 8 million people. In 2004 it was watched by 11.48 million and in 2000 it was seen by 15.95 million. At its peak in 1987 it was seen by 26.63 million, including the repeat broadcast.
The BBC has consistently topped the ratings on Christmas Day but its current top offering appears to have divided rather than united the country. While 17 million people used to view Only Fools and Horses as acceptable Christmas Day entertainment, the contemporary audience may be more critical of the programme schedule.
The audience decline is partly a result of a greater choice of viewing across more channels. People also have a wider choice of viewing generally, from DVDs to streaming services. A movie on television will no longer attract a large family audience, when they can choose what they want to watch. Frankly there are also other things to do across multiple screens, including playing games.
Yet television can still demonstrate the ability of a mass medium to unite a nation. The spectacular New Year's Eve Fireworks broadcast by the BBC at midnight had an average audience of 12.3 million viewers. That was still down on 13.7 million the previous year. Nevertheless, it will still be one of the most watched programmes of the year.